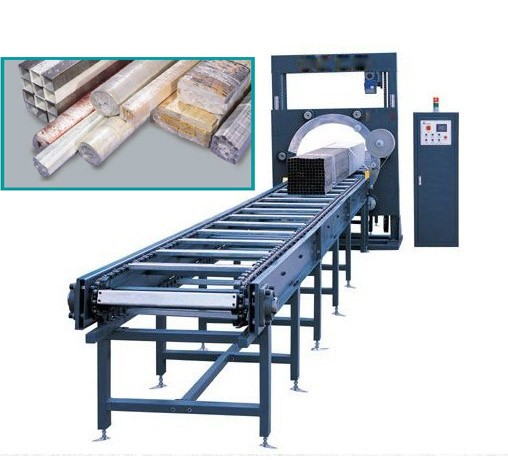 Specification:
Description:
Our qualified team takes charge of the complete realization of the equipments according your requirement from the conception to the moving off for the long shape product packaging. The numerous technical innovations and special designing allow us to respect the confines linked to the different packing requirement and packing processes for long shape objects, such as timber, profile, pipe... Horizontal ring wrapper is using automatic feed conveyors, packing material feeder, product handling, wrapping station, stacking. The system is a final solution including all necessary line.
More solution for your optimum protection of long shape product and complete bundles packaging in Fhope:
Technical Features:
Control for ring wrapper
l Siemens PLC&HMI controller
l Photo-eye sensor for wrapping control
l 0-12m conveyor speed in wrapping
l Photo eye sensing delay, and program control
l Reinforce wrap in front and end allow.
l Film Tension Control and never products damage
l 10-60R/min avariable adjusting speed by inverter
l Film easy loading and reloading during 5 sec
l Cycle pause capability, and ring jog function
l Separate start, reset and emergency stop buttons
l Both manually and automatic packaging mode can be chosen.
l Strong structure and long service life.
Conveyor
l In and out feed for conveyor
l Two size products protection
l Motor driven conveyor
l Soft start /soft stop
l Heavy duty chain drive
l Both size protection in wrapping.
The solution available for product package range: OD:20-2000mm, Length:>400mm Weight>1kg.
For steel pipe/aluminum or laminated timber, the market require a well protected packaging for product. Protection against dust and rain is basic requirement as a products protection against the environment. For this Fhope has the right packing solution --Ring type packing and spiral wrapping. The machine range starts from semi automatic solutions up to our automatic machine series which is able to pack single pipe or pipe bundle with a speed up to 20m/min.
Option
a. Automatic material feeding&cutting b. Turning conveyor c. Pneumatic film grab and cut off system
d. Packing material width: 500mm e. Ring diameter: 1800mm, 2000mm f. Brick feeding: g. Machine color