Home
>
Products
>
Horizontal Orbital Stretch Wrapper
>
Customize orbital wrapper
>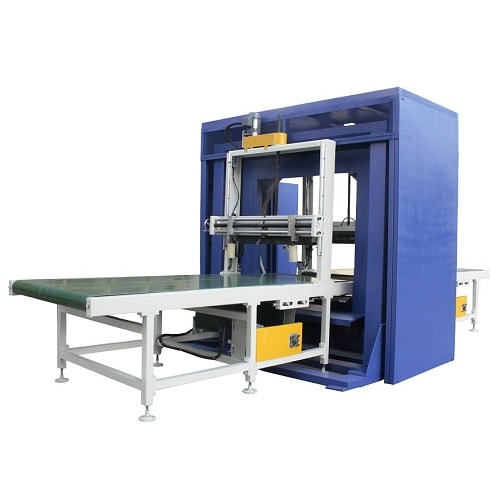 Fhope is the leading manufacturer of ring stretch wrapping systems for long shape industrial goods.
As a specialist in packing solution for ring stretch wrapping machines for various products, the solution provided is a high degree of load securing, Fhope is the first company provides a customised solution in fully-ring film stretch packaging systems including different automatic loading and unloading system.
Features:

PLC and HMI automatic stretch wrapping operation.

A variety of packaging materials apply.

Can be connected with the another production line and packing line.

The speed controlled by the inverter.

Cover the film area as needed.

Packaging tension adjusted by a special crusher.

Fence, soft start and soft stop are for safety.

The best packaging position automatically adjust.

Alarms show automatically when a fault occurs.

Trouble and resolved method can be displayed on the screen.
Parameters:
Voltage (V/Hz): Per requirement
Power (KW) : 6.5
Package OD(mm):200-2000
Length(mm): 2000-6000
Weight(Kg) :100-4000
Packing material:PE/Stretch film/knit belt/VCI paper or another
Ring speed(r/min) :30-60
Wrapping speed:2-9m/min
Overlapping rate:20-80%

This wrapping machine is an orbital and ring type wrapping equipment developed by Fhope. Our company supplying solutions for both semi-automatic or automatic stretching packaging. Over 20 year's experience the reliable equipment provided by Fhopepack is find the solution for full package and special shape.

The greatest advantage, you know, is to work smoothly according to the requirements of different packages. Especially in the whole process of transportation safety and protection products, customers will be satisfied.Our machines can help manufacturers carry out more practice and play an important role in the safe use of case studies. As far as our packing is concerned, it can find the value faster and improve the packing speed.
CONTACT US