Home
>
Products
>
Horizontal Orbital Stretch Wrapper
>
Automatic horizontal stretch wrapper
>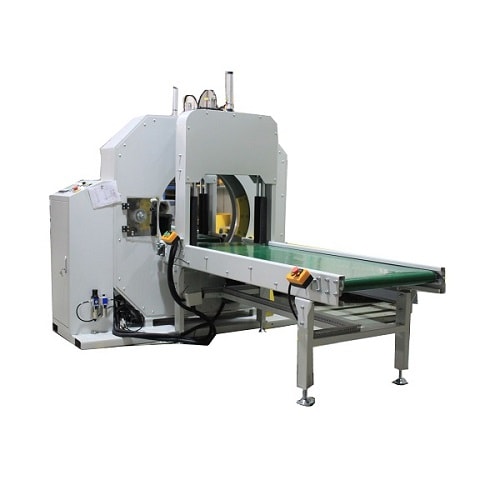 Installation:
The
horizontal stretch wrapper
machine shall be mounted on flat and hard ground, where the ground load should be more than 1 ton/m2.
Wrapping Station:
Ring and double-rub wheel devices make operation safe stable and energetic.
Friction between driving wheels and ring is adjustable.
Speed of the ring is adjustable by inverter.
Soft start and start.
Wrapping position reset.
Packing material tension could be adjusted.
Widely packing material adopted by material frame.
Protect guardrail for safety operation.
Overlapping is adjustable from 10%-90%
Conveyor:
Conveyor with soft connecting for protecting the surface of the product
Automatic entrance conveyor system and outlet conveyor system.
Conveyor adjustment function.
Conveyors drive by motor with gear box.
Speed of the conveyors is adjustable by inverter.

PLC control system:
PLC and program makes wrapping machine able to do automatic wrapping according your packing goal.
Photocell sensor is adopted for setting packing position.
Indicator alarms automatically when trouble occurs. Trouble can be shown automatically.
Separate control panel makes operation & maintenance easily.
Interface operation.
Automatic cutter and feeder(mechanical hand):
Unmanned operation.
Automatic material feeding system.
Automatic material cutting.
Technical parameter:
Bundle OD: 100-400mm
Bundle length: >1200mm
Weight:15-100kg
In feeding conveyor length: 2000mm with motor
Out feeding conveyor length: 2000mm with motor
Speed: 6~12m/min
Ring speed: 20-90r/min
Wrapping speed:5-25m/min
Power output: about 2.5kw
Power voltage: 380v, 3PH. 60Hz
Packing material: polyethylene foil/paper/PP/Woven
OD:100-200mm Width:100-200mm ID:50/76mm
Guarantee value:
Ring speed: 20-90r/min
Wrapping effect: Product surface is smooth and even.
Working hours of the machine
Effective working hour per year:7200h
Environmental protection:
Noise control of the equipment environment:Must meet with the national requirements for noise control.
Emission standard
Emission of the waste gas and waste water meet with national requirements.
For most ring sizes orbital wrapper, it is available for manual, semi-automatic and automatic options.
As a inventors and manufacturers of orbital stretch wrapping machines, we are so proud to benefit our customer in packaging securing oversized, oddly shaped, palletized loads...Non-technical or technical personnel can be trained to operate the machine safety in one hour or less.

CONTACT US