PALLET CHAGNER SYSTEM MANUFACTURER
The pallet changer is a load handling equipment produced to changing the pallets on botton. These pallets can be upendding, lifting or pushing which allows exchanging the pallet between the internal & extenrnal. Also it is for the easy changing the broken pallet from the bottom of loaded. It is able changing the pallets or move the loads from one pallet to another without need rotation or turning. The application of the palelt changer is used in the food industry, pharmaceutical industries, daily chemical produdct...
Pallet Changer
Your may have unique specification in size and weight, special handling way in moving, irregular pallet form...for pallet changing application that need a special designed pallet changer to work properly.FHOPE as an ODM manufacturer in CHINA, our team got rich experience in the speciality pallet changers that can be designed for working with you staff to making the safet, easy and efficiency pallet exchanging. FHOPE providing special refund guarantee in our pallet changer that is base on our confidence in the machine quality.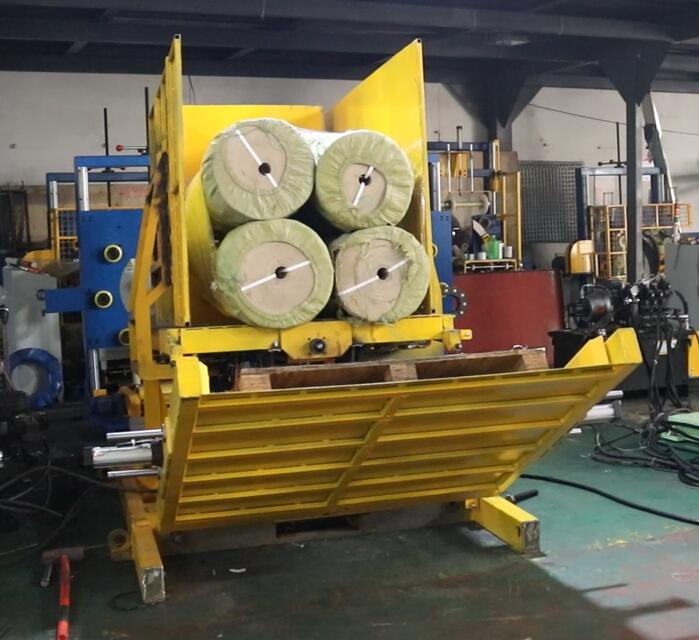 If you're changing pallets frequently, the pallet changers correct for you. A forklift can ruin the goods if not utilized with proper nurture but with a pallet changer, you can preserve with steadiness and high heaping possibility with less commotion. Maximum of the ruination is done while pallets are on movement or being fork lifted from one place to another but with a pallet changer, there is less charge to pallet repairs. If you are often spinning in larger quantities in the time or after the production procedure, a pallet changer can retain you time. Instead of spinning single boxes at a time, the pallet changer provides you the investment of spinning large quantities at a time. It also provides flexibility where you can switch from one pallet kind to another handily without spending in different equipment.
It is important to test the equipment before shipping. Testing in its entirety will help to identify any problems with the product and the warehouse equipment. If you are not allowed to send your loads in for testing for pallet changing procession, Fhope will use a product with similar or if not exact dimensions and size of your product in testing the pallet changer.
To help our customer easy handling and changing the palelt, FHOPE, an industrial equipment company, took a unique approach to design a solution for the customer's unique location.
The low-duty pallet dispenser and accumulator is customized for the customer's specific requirements that is a part of
It eliminates the need for operators to manually stack or unstack pallets and reduces safety concerns by using a light curtain at the front of the unit.


Product Inquiry

Email: info@fhopepack.com

Whatsapp: 0086-13951501635