Home
>
Products
>
Horizontal Orbital Stretch Wrapper
>
Automatic horizontal stretch wrapper
>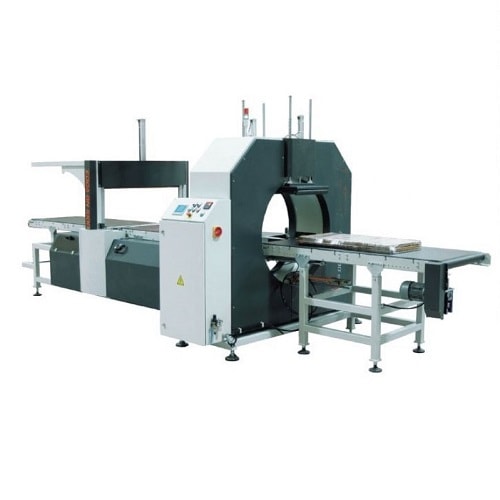 This is a orbital
horizontal stretch wrapper
machine with bubble film covering device and film sealer for packing the long shape package with full covered wrapping.The control panel installed with HMI for easy inputing and setting the parameter to control the packing speed. Automatic sealer for seal the PE, HDPE film also.This picture is orbital wrapping machine for IKEA for wooden board wrapping.
Installation:
The orbital stretch wrapping machine shall be mounted on flat & hard ground, where the ground load should be more than 1 ton/m
2
.
Horizontal Stretch Wrapping Station:
Basic feature of the main wrapping station
Reinforce aluminum cast-solid ring with strong structure makes steady in wrapping
Four-ring & double-PU wheel devices make working more safe stable & energetic.
The higher level main board with stronger structure and frame for wrapping.
Friction between driving wheels and ring is adjustable.
Speed of the ring is adjustable by inverters.
Soft start and start and ring jog.
Sensor for wrapping position automatic reset.
Packing material tension could be adjusted.
Widely packing material adopted by material frame.
Protection shield covering the machinery structure and moving parts of safe operation.
Overlapping is adjustable from 10%-90%
Wrapping start and stop points are adjustable.
The relative figure adjustable on touch screen.
Conveyors
Soft conveyor for products soft touching.
Automatic infeed and outfeed conveyor.
Conveyors driven by motor with gear box ,length can be an option per need.
Speed of the conveyor is adjustable by inverters.
Sensor detects the object for infeeding, wrapping, outfeeding action.
All moving parts in drive system are well covered by shield.
Height adjustable little bit for keeping the wrappign level.
Automatic mechanical hand
Automatic material feeding and cutting device.
Automatic material clamping for next wrapping.
Sensor and PLC program control.
The operation parameter is adjustable.
This device makes machine automatically and unmanned operation.
Different mode makes machinery able to do different material wrapping.
PLC&HMI control system
PLC and program makes machine able to do automatic wrapping according packing goal.
Interface HMI operation.
Photocell sensor is adopted for setting packing position and it is adjustable.
Indicator alarms automatically when trouble occurs. Trouble can be shown automatically on touch screen and light for easily operation.
Separate control panel makes operation & maintenance.
Ring speed and conveyor speed adjusting on touch screen.
Wrapping position stop automatically and adjustable on touch screen.
Head delay and end delay adjustable on touch screen for specification packaging.
Reinforce wrapping both head and end adjustable one touch screen.
The machinery functions can be operated both touch screen and bottom.
Time adjustable for pressing device action time.
Press down device
Both side protective devices adjust by manually to avoid products shaking in wrapping.
Top press device with soft material for glass surface protection.
Two press down devices on in-feeding and out-let conveyor.
The action time of protective devices are adjustable for difference packing purpose by program.
The protective system is fit for object with different frame, structure and non-planar surface.
Option:
Special tension control carriage
It is able provides consistent tension in wrapping with strong and tight packaging.
It makes machine workable
for big and small package
with nice surface.
Technical data:
Object size:

Length:>1500mm
Bundle OD:200-500
Weight:50-500kg
Infeed conveyor

:

2000mm L×700mmW
Outfeed conveyor:

2000mmL×700mmW
Material:

LLDPE stretch film/ Paper/ Woven
Width: 150-300mm
OD: 100-250mm
ID: 50mm
(Let me know, if you need another size)
Air Supply

5~8kgf/cm2
Conveyor Speed:

3~12m/min
Ring speed:

App.10-60r/min
Machine size:

App. L5200 x W1600 x H1800mm
Power output:

about 4.5kw
Power voltage:

AC 380v,50Hz,3Phase
Control Power voltage

ADC24V
Application of horizontal wrapping machine FHOPE-E500
CONTACT US