Home
>
Products
>
Horizontal Orbital Stretch Wrapper
>
Semiauto horizontal wrapper
>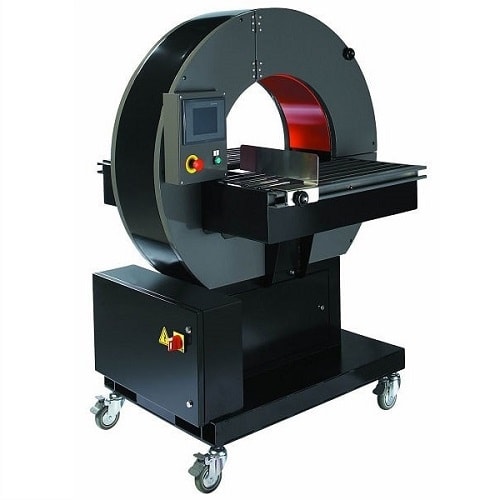 The semiatuo machine is specialized for horizontal shapes such as pipe tube or bar、Floor board, the wrapped package is well-protected & sealed & looks more tidy. The machine ring is aluminum alloy whichi is light and strong. It is able accuracy and high speed rotating for wrapping. The drive is special PU wheel with bearing than able adjusting the transmit traction any time for stable wrapping.
The
horizontal stretch wrapper
also simplifies loading and film insertion. The roll carriage is also equipped with locking and quick release.
Installation:
Only power and air connection required to start the machine.
Features:
Double-ring & double-rub wheel devices make working more safe stable & energetic.
PLC & HMI are adopted for each packing step
Photocell sensor is adopted for setting packing position.
Indicator alarms automatically when trouble occurs. Trouble can be shown automatically.
The turning ring is controlled by converter. Overlap rate could be adjusted according to the requirements.
Material tension could be adjusted automatically.
Separate control panel makes operation & maintenance easily.
Sensors with motor drive conveyor for automatic transport the pipe bundle.
Supportive roller and cylinder to fix the position and avoid shaking in wrapping.
The packing material automatic clamping and cutting device for efficiency packaging.
Technical parameter S300:
Object size:
Length: >1000mm
OD:100-300mm
Entrance conveyer length: 1000mm
Outlet conveyer length: 1000mm
Ring speed: 100r/min
Power output: app. 1.5kw
Power voltage: AC 380v,60Hz
Material:
stretch film
Width: 120mm
OD: 250mm
ID: 50mm
CONTACT US