Home
>
Products
>
Horizontal Orbital Stretch Wrapper
>
Automatic horizontal stretch wrapper
>
The Spiror series of automatic high-speed
horizontal stretch wrapper machines
are designed for low- to mid-volume production.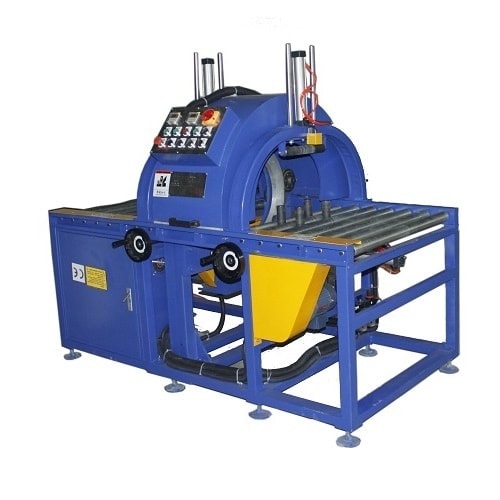 Wrapping Station:

Aluminum cast ring with PU wheel devices make operation stable, safe and energetic.
Wheel position adjustable for the ring to get a good friction.
Inverters for changing the HZ to adjusting the speed of the ring and conveyor.
Soft start and start for ring rotary.
Ring wrapping position reset by sensor.
Packing material tension adjusted in easy way by tensioner.
Many types packing material adopted by material frame.
EU standard protect guardrail for safety operation.
Overlapping is adjustable from 10%-90%
Conveyor
Conveyor for protecting the surface of the product
Automatic entrance conveyor system and outlet conveyor system.
Conveyor adjustment function.
Conveyors drive by motor with gear box.
Speed of the conveyors is adjustable by inverter.
Note: Our team will provide different conveyor solution via different package.

PLC control program:

PLC and program makes machine able to do automatic wrapping according your packing goal.
Photocell sensor is adopted for setting packing position and cutting time.
Indicator alarms Trouble can be shown automatically in indicator and program.
Separate control panel makes operation & maintenance easily.
Interface operation.
Automatic cutter and feeder(mechanical hand):
This is automatic material feeding and cutting uint for Unmanned operation.
Automatic material clamping and feeding system.
Automatic material cutting & holding.

Technical parameter:

Package OD: 50-100mm
Package length: >1000mm
Weight:8-100kg
In feeding conveyor length: 2000mm with motor
Out feeding conveyor length: 2000mm with motor
Speed: 6~12m/min
Ring speed: 20-120r/min
Wrapping speed:3-15m/min
Power output: about 2.5kw
Power voltage: 380v, 3PH. 60Hz
Packing material: polyethylene foil
OD:100-200mm Width:50-100mm ID:50mm
Option parts:
a. Length of conveyor
b. Max. Loading
c. Ring size
b. ABB/SEW motor
e. Pre-stretch film frame for 100%-250% pre-stretch
It is importantly nessary for our clients to have a durable and efficient packaging of product transport with our stretch wrappers, and you will find that it is within your budget and fit your requirements after selected some choices. The machine is desinged for providing the secure shippments of all sizes and shapes quickly, it also with the feature that only be involed with little or no manual labor.
CONTACT US