Hose Wrapping Machine Sloution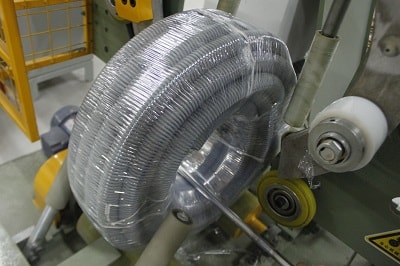 FHOPE has different series hose coil wrapping machine used to hose coil, plastic pipe packaging, which is with highly efficiency and nice packaging for saving labor and material cost. It adopts packing material as PE film, paper, LLDPE, HDPE woven. The higher packing speed is upto 15sec/coil. There are different solution adopted to HDPE pipe, PVC PIPE... Three types hose coil packing solution:
1. Vertical hose and pipe coil wrapper
2. Horizontal hose and pipe coil wrapper
3. Automatic hose and pipe coil wrapper
Currently Fhope packaging manufactures a full line of hose packaging line, pipe coil packaging...Pipe and hose wrapping machine can automatically coiling the machine, conveying, wrapping. Automatic coil bagging is available too. It saves the labor cost greatly. Fhope packaging also manufactures sealing machines for coil shrinking and wrapping.
Features
1.Adopting world famous brands for main components.
2.Safe Guardrails equipped for object loading and unloading.
3.Inverter for adjusting Wrapping Ring speed and Rolls speed.
4.Different kinds of packing material can be using on machine.
5.Independent electrical cabinet and with trouble-shooting for safe operation.
Download
Videos
Wihtout the hose coil packing machine solution, the packing procession will spending the main part of the manual effort in the hose pipe production. The extruder is running automatically 24 hours without stop, so it need the manaul or semiatuo coiling and packing the hose coil in 3 shift. That is trouble in the labor shortage area.
Most of the hose factory using the semiauto hoe coil packing equipments in the coiling and wrapping. But some factory still using the manual packaging way. One semiauto hose packing machine is able replce 2-4 peoples. By replacing the man work by enquipment helps to creat more benifit in the prodution.
FHOPE providing the hose packing solution from hose length checking, hose coiling, winding , hose coil strapping, hose coil film wrapping and hose coil stacking on pallet. The packing machine can be semiauto or automatically at each step in packaging. Also, there are automation turn key project service to make the whole packaging procession automatically with Iot and MES system. So that the increasing the efficiency greatly between the extruder and stacking warehouse.
FOUR VERSIONS OF THE HOSE AND PIPE COIL WRAPPING MACHINE IN BEST PRACTICES
1. HOSE COIL PACKING IN HORIZONTAL WITH CONVEYOR IN&OUT FEEDING
Although the automatic hose coiler and strapping machine machine is at the earlier stage of the large scale application, the conveyor and automatic wrapping machine can be a good way to lowe the labour intensity. It helps to connect the winding machine with automatic hose coil infeeding, wrapping and out feeding.