Rotary arm wrapping machine
In the past 20 years, the Fhope packaging system has become one of the world's leading manufacturers of stretch packaging systems, including the mechanism and application of stretch membrane. These systems are applied to the corrugated industry to help organize and protect corrugated loads in the treatment of dust and damage, transportation and storage. We produce various types and sizes of stretch membranes, which are suitable for automatic semi-automatic and fully automatic stretch packaging systems. Our sales, equipment service, customer service and engineering department can help you design the quality protection packaging system for your industry.
Features
The revolving arm stretch wrapper is a pallet packer category that distinguishes the existing mechanical arm and the "turn" pallet package. This type of productivity is compared to the middle level, with the rotating palate (lower average productivity) and the rotating ring (higher average productivity) of the machine.The rotary arm stretch packaging machine provides a new solution for customers who need to pack very heavy or very light unstable loads, in which one machine and rotary platform may not be enough.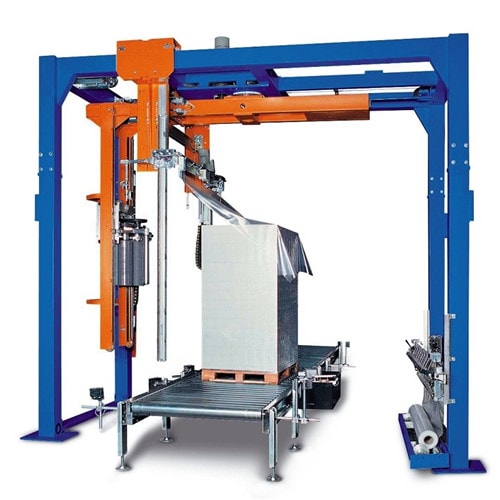 Download
Videos
People frequently think what benefits pallet wrapper has over manual reels and why pallet wrapping machines have become so famous around the industry world. Having been aware of this, we point at emphasizing a few of the surprising advantages that an investment in pallet packaging machines provides.
Finally, so that maximum packaging company can discover Pallet Wrappers for Sale and make purchasing options that bring constructive outcomes. To educate more about the advantages of machine pallet packaging over manual packaging we have calculated some companies that have currently invested in pallet wrapping machines to notice the positive influence on their business. The usual benefits of rotate pallet wrapper packaging machines are:
1. Speed higher: upto 20-35 pallet per hour
2. Autoamtion hight level
3. Easy to opeartion and durable.