Cable packing machine
Fhope group focuses on customizing semi-automatic and full-automatic cable packaging solutions to meet different requirements from different customers. Automatic cable packaging line, can complete a complete package process, from the cable length counting, cable coiling, cable winding and automatic cable packing.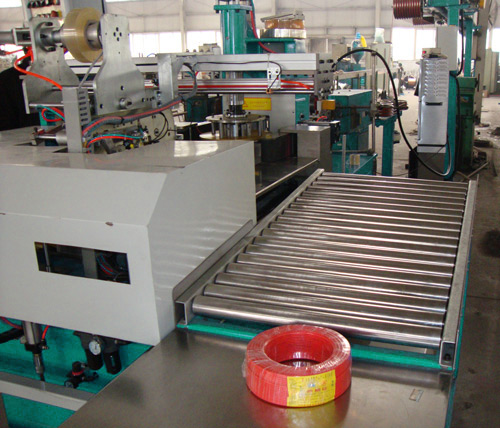 Different types of cable coil packaging solution can be provided by using stretch film, PVC and other materials.
The packaging machine can complete a coil package in 15-25 seconds. The ring speed and rotating speed can be adjustable by inverters. In production, it is the most effective equipment connects to production line for automatic packing. By customized designing, the machine meets the requirements in saving space and saving labor cost for packaging .
Fhope provides packaging solution for cable coil and cable coil market. Our dedication to cable wrapping machines has led to innovative, inexpensive products that address issues such as reduced, non-natural packaging. Our revenue, equipment services, customer engineering and service sectors can help you design the best defensive product packaging systems for your personal software. You are welcomed to contact us with Fhope cable packaging equipment. Our team will help you find the best type machine to meet your specifications perfectly.
In a words, we are providing total solution for cable coil coiling, wrapping, strapping, shrinking and stacking solution.