Home
>
Products
>
Horizontal Orbital Stretch Wrapper
>
Semiauto horizontal wrapper
>
This versatility allows our
horizontal stretch wrappers
to quickly and easily adapt to different product types, shapes and sizes and makes them the ideal solution for almost any application.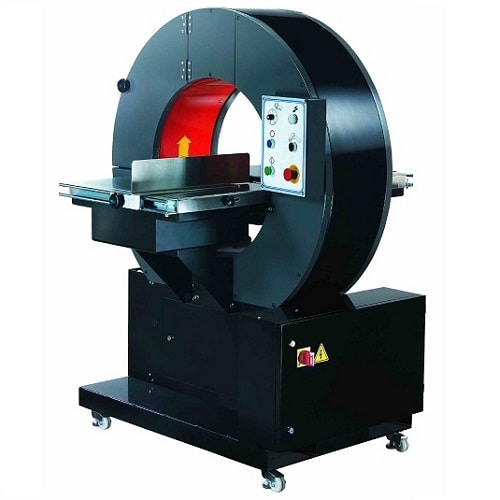 Wrapping Station:
 Ring type stretch wrapping machine.
 Adjustable drive friction and wheels.
 Inverter for ring speed adjusting.
 Soft start and start.
 Ring initial point resetable.
 Packing material tension could be adjusted.
 Machine works for different packing material.
 Protect guardrail for safety operation.
 Overlapping 10%-90% Conveyor System:
 PU covered rolls conveyor for protecting the surface of the product
 Automatic entrance conveyor system and outlet conveyor system.
 Conveyor adjustment function.
 Conveyors drive by motor with gear box.
 Speed of the conveyors is adjustable by inverter.
Technical parameter:
Object size: Bundle OD:50-200mm
Leght:>1500mm
Entrance conveyer length: 1000mm with motor
Outlet conveyer length: 1000mm with motor
Speed: 4~15m/min
Ring speed: 20-90r/min
Power output: about 2.5kw
Power voltage: AC 380v,60Hz
Material: LLDPE stretch film/PE/HDPE

CONTACT US