Pipe Packing Machine
As one of the leading companies in plastic pipe coil packing, Fhopepack provides both vertical and horizontal types coil wrapper . We help to set a great standard in the hose coil wrapping industry. Our long history and skilled workers make the best machine for all the customers. Today, Fhope is always continuing to design reliable, rugged pipe wrapping machines, withstand all the possible challenges, even the most harsh and tough environment. Fhope helps you with solutions of complete hose coil packaging line in different markets and applications with the latest technology. We believe our machine can help you with your competitiveness in your industies.
Features
1. Nice packaging appearance: good for storage, transportation and marketing
2. Less material using: save the packing material cost
3. High speed: increasing the packing speed to improving the produtivity
4. Easy operation: machine designed for fool style operation by non skilled worker.
5. Labor cost lower: The machine is able replace the worker in packing a lot.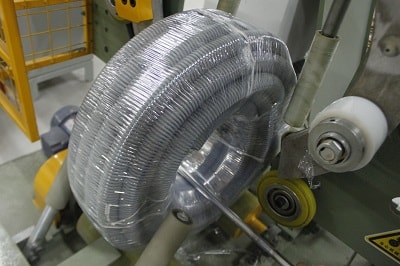 Download
Videos