Semiauto wrapping machine can be widely used for long shape package. The conveyor can be semaituo motor free roll, can be Pvc belt...
It is mainly created for any heavy and long shape objects. Such as stainless steel pipe, plastic pipe, aluminum section, aluminum profile and so on.
With great technique of our designers and workers, the machine can make the package tidy and beautiful.
All the switchgear & Isolation Transformer, control hardware would be given by seller housed in panel.
All field wiring with Push Button Stations, Terminal Boxes, & Junction Boxes would be given.
All the Electrification with Field I/P Sensors, PRX, LS with Solenoids & other outputs are included in line.
Horizontal stretch wrappers
are available with a variety of product stabilization and sealing devices.
Features
1.Protect the package and eliminate damage
Using the Horizontal orbital stretch wrapper and ring type wrapping machine, LLDPE stretch film is extended as it is applied and packing requirement. Once stretch film is around the package, it contracts and enclose just like a rubber band, to keep the compression and stake package together. It prevents harm to colored, highly polished surfaces requirement which safeguard the items in transition. Avoid the requirement of interleaved buffer materials.
2.Material and Reduce Packing Costs.
Horizontal orbital stretch wrapper/wrapping machines can eliminate bulky, expensive packing material in wrapping like foam, tape, shrinking wrapping, paper Knit belt, string, pet belt. The highly packing speed saves you time and labor costs. All above minimize your packaging cost.
3.Uniteze length wrapping available.
The horizontal orbital stretch wrapping machine is ideal for long objects such as unitizing pipe, tube, profile, lumber, door, window, board, section,MDF wood,MDF board, textile rolls... No limited with one or more layer of stretch film or any other packing material. Over wrapping rate is adjustable according different width. You packages are protected from dust, moisture, damage.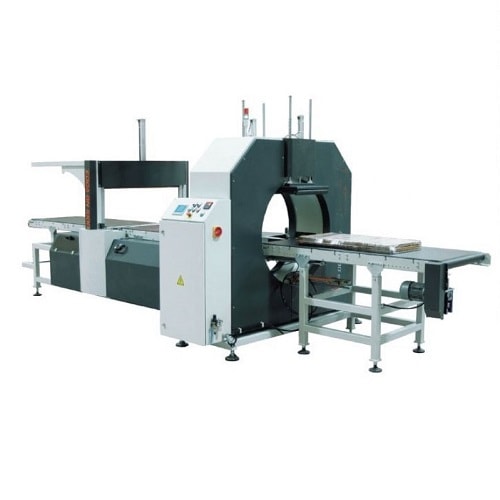 Download
| | | | |
| --- | --- | --- | --- |
| | | | |
| E200 | E300 | E400 | E1000/1400 |
Videos
The semiauto horizontal stretch wrapper can be designed as a part of the automation system in packaging.
There are numerous ways that orbital wrapper can advantage your package and warehouse, as we will summarize below.
Decreased labor: With orbital stretch wrapper, you can lessen the number of everyday tasks that you need to do each day. This will permit you to expand you and your worker's days with more essential and important tasks, for example wrapping machine maintenance and conceptualizing ways to make better your business's productivity and the main idea.
Better Efficiency: The orbital wrapping machien will better the speed and exactness of your packaging processes, permitting you to execute more in less time.
Superior Inventory Management: There are specific kinds of orbital wrapping machines that can assist you to hold exact records of your listing and make sure that you are preserving items in the perfect places. This will assist your warehouse avoid surfeit and maintain in-stock accessibility. It will also make sure that the workers aren't investing priceless time investigating for missing or lost items.
Happier Clients: Packing by orbital wrapper will lessen the number of errors made in the time of the packing procedure and make the procedure much faster. These two factors will give to productivity and hold the delivery delays to a lowest.