Home
>
Products
>
Horizontal Orbital Stretch Wrapper
>
Automatic horizontal stretch wrapper
>
The
horizaontal stretch wrapper
is a rotating ring machine for spiral wrapping elongated products. The machine is equipped with electro-welded mesh safety guards to protect the operator during operation.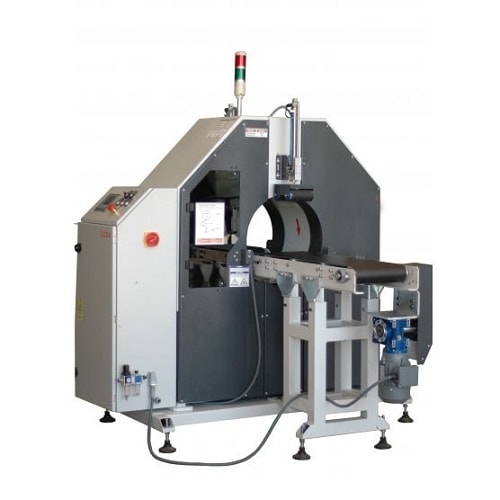 Wrapping Station:
Durable ring and strong structure for long life using.
Special driving wheels for smoothly ring turning.
Turning speed of the wrapping ring adjustable from 10-120r/min.
Soft start and stop for ring wrapping.
Wrapping position automatic reset.
Good tension control for big and small objects
Flexiable for different packing material.
Moving parts are convered by guardrail for safety operation.
Overlapping is adjustable from 10%-90%
Conveyor
Conveyor for protecting the surface of the product
Automatic entrance conveyor system and outlet conveyor system.
Conveyor adjustment function.
Conveyors drive by motor with gear box.
Speed of the conveyors is adjustable by inverter.
PLC control system:
PLC and program makes machine able to do automatic wrapping according your packing goal.
Photocell sensor is adopted for setting packing position.
Indicator alarms automatically when trouble occurs. Trouble can be shown automatically.
Separate control panel makes operation & maintenance easily.
Interface operation.
Automatic cutter and feeder(mechanical hand):

Unmanned operation.
Automatic material feeding system.
Automatic material cutting.

Technical parameter:

Package OD: 50-200mm
Package length: >1000mm
Weight:8-100kg
In feeding conveyor length: 2000mm with motor
Out feeding conveyor length: 2000mm with motor
Speed: 6~12m/min
Ring speed: 20-90r/min
Wrapping speed:5-15m/min
Power output: about 2.5kw
Power voltage: 380v, 3PH. 60Hz
Packing material: polyethylene foil
OD:100-200mm Width:100-200mm ID:50mm
Machine color: Can be customized
Option Parts:
1. ABB/SEW motor
2. Conveyor type: PVC/Roller/Chain/
3. Interlock
4. Lenght of conveyor
You can have a choice for Fhope Orbital Stretch Wrap between manual and semi-automatic for timber, aluminum profile, board... And the machine can be desinged with different power supply, 110V, 240V,380V... making it easy to install in most any plant. it is also OEM a standard pallet size up to 68" diagonal.

CONTACT US