Automatic Rotate Ring Stretch Wrapper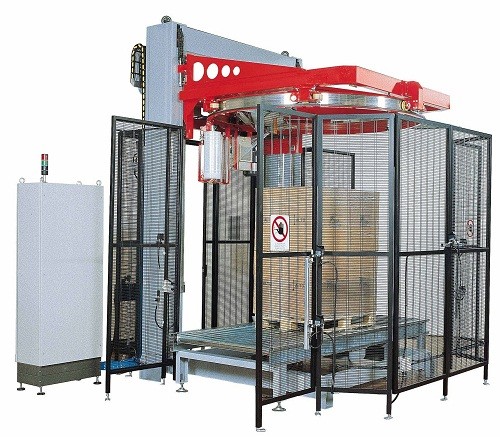 Automatic rotate ring stretch wrapper designed according high speed pallet wrapping packing requirement . This machine allows to pack a nice and strong package of all kind of pallet by a stretch wrapping on products of sundry nature with rotating film-roll. Five sides sealed package is protecting palletized products with waterproof top sheet dispenser integrated in the machine. It is a effective wrapping which provides an excellent protection for pallet transportation. The machine is program control by PLC&HMI. The wrapping layer is adjustable as wrapping as ring up and down ring. It is an online packing machine which can be installed on any existing production or packing line. The rotate ring stretch wrapper is perfectly meets high speed packaging needs. It is complete with top sheet dispenser, sensors, powered pre-stretch device, automatic film clamping and cutting unit, boundary safety-guards, control box with PLC&HMI. The speed of ring and rollers are adjustable to accommodate materials varying in thickness.
Technical date:
Maximum pallet dimension: 1200x1200x2000mm
Power supply:380v,50Hz
Max.Loading:2000kg
Air consumption:140Nl/min
Output:30-60/hour
Top dispenser:
The superior part of the pallet requires to be protecting by covered film. The top sheet dispenser is with a robotic arm which holds the spool of packing material and covering the film. It is automatic positioning for the pallet position and automatic film cutting.