Film carriage for horizontal orbital stretch wrapper
Film carriage with tension control
Film carriage


Different carriage available from different package and different packaging material.
Information relate to film width and Min.Length: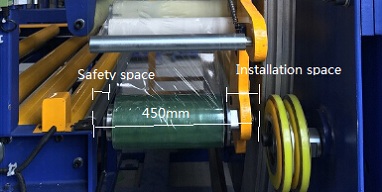 When the width of film is 300mm, the gap between in&out feeding conveyor app.450mm. Normally it is 500mm.
Because of 1. there is need safety space between film and convey.
2. There is need installation space for film roll
So the length less than 900mm will cause driving force is no enough from moving products from in-feeding to out-feeding conveyor. Especially for light product.
The suggestion 900mm dose not mean the 900mm is the limited. If you have 600mm, we can do not modification. But if you don't have 600mm, choosing the 900mm is a good choice.