At Fhope Automatic Coiler Dept. specialize in automatic pipe and hose coiling systems.
The winding and strapping system is for use with a wide range of plastic pipe, hose conduit and tube. Our solution is able for replacement of manual or semiautomatic coiling . By fully automated coiling systems, we are help our client reduced labor cost, Increased extrusion speeds. It is able easy the job in coiling and handling. In addition, We are designing different solutions to the wide range of coiling machines for winding and coiling free standing coils. we also produce automatic packing line for coiling small diameter with film. These coiler & machines have different range features in common with our automatic pipe coiling and strapping machine. In some cases it can be designed to special packing and handling purpose use with changeover the spooling , coil configurations and packing material...




Features
Our team will try our best to provide you with various solutions for the full automatic coiler&winding machine.Our automatic coil winding machine meets the CE standard and adopts the latest advanced technology and industrial design standards.At present, the packaging solution of the industry is provided by Fhopepack. We have been working hard to provide innovative and cost-effective products for the packaging industry.We have successfully solved problems such as loose, irregular packing.We can design your own packaging system for you through our sales service, equipment service, customer service and engineering department.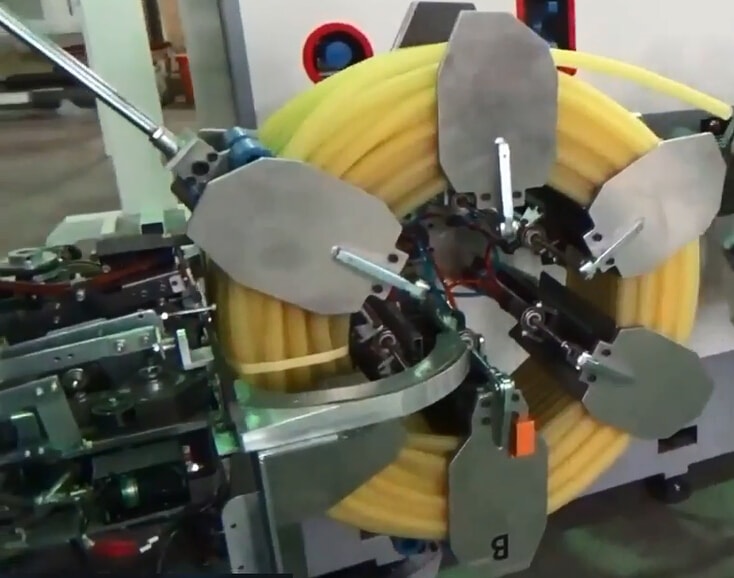 Download
Videos
We will custom design and manufacture an automatic coiling machine and pipe coiler that are able to winding the pipe&hose which covers the strapping requirement.
This is an automatic pipe winding solution for connecting your extruder to reduce the labor which able to managing your production by one people. The automatic hose coiling and strapping machine for your PE,PVC, HDPE...
All automatic pipe coiling machine & strapping machines from Fhopepack offer
1. Ease operation and maintenance with HMI and PLC.
2. Coiling size easy changing.
3. Automatic counting the length of the tube
4. Automatic cutting the length
5. Automatic strapping the coiling and out feeding.
We providing solution for the wide range of pipe size by coiling machines for your production, we also providing solution fully automatic machines for coiling and strapping too. The automatic tube coiling& strapping machinery all conform to CE guidelines and have been designed using the latest technology and design criteria for industrial use.
The FHOPEPACK provides packaging solutions for the tube industry. Our commitment to the industry has resulted in the development of innovative, cost efficient products that address problems like loose, irregular packaging. Our sales, equipment service, customer service and engineering departments can help you design the optimum protective packaging system for your application.
2) Basic characteristics: I. Automatic pipe coiling and strapping machine
1) Function: It is winding equipment for calculating the tube length, cutting the tube, coiling the tube in coil, fixing the tube coil, strapping the coil moving the tube coil automatically. The figure can be set in the PLC control program.