Home
>
Products
>
Automatic Coiler
>
Horizontal Automatic Coiler
>
Description :
Automatic coiler
FCL-H300 is suitable for winding of nylon tube, PU pipe, PE pipe and other material pipe.It automatically rewinds the air tube from the reel and connects it to the extruder for online coils.After winding the coil, the coil will automatically move to the next station, which will be used for binding, contracting, piling, and so on...This design is suitable for automatic coiler of PU tube, nylon tube, windpipe coil, winding machine and automatic strapping machine.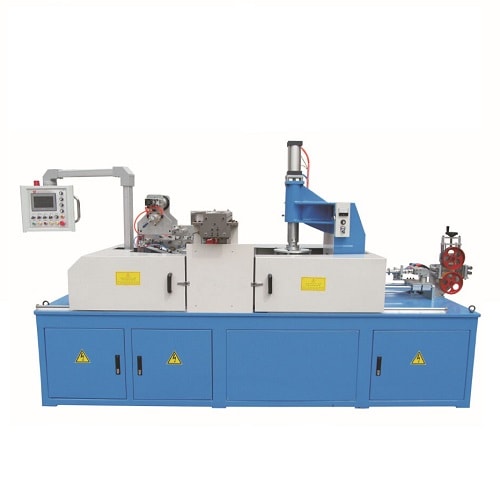 Function :
The equipment contained in the machine can be set and operated directly by the PLC control program. This is an automated machine that can automatically calculate tube length and perform a series of operations, including tube cutting, tube coiling, strapping and so on.
Product Specifications:
No. of packing material LLDPE/PE/PVC/:
Coil ID: 100-300mm
Coil OD: 300-400mm
Width: 100mm
Weight :8-50kg
Main wrapping speed(high/low) 18-35sec/pcs
Max speed of ring 100r/Minute
Power supply(high/low) 380V 60Hz 3P

(2) Automatic strapping machine

Coiling Machine Feature:
It will be designed for hose coiling in one layer
It can realize automatic operation, and set the corresponding parameter program through PLC and HMI control system.
There are two different salary modes, automatic and manual.
It can control the tension of the pipe feeding, so as to realize the tight coiling of the pipe.
The corresponding parameter program can be set in advance in the PLC control system.
The machine is equipped with sensors that can automatically detect the precise position of the pipeline.
The running speed can be adjusted through the inverter.
Capable of continuous winding on two wheels

It has an automatic displacer and a pneumatic discharge coil.
When there is an error in the operation of the machine, it can automatically detect the error and send an alarm signal.

Features:

1) OD type strapping.
2) Program control for automatic strapping.
3) Automatic positioning for different coils.
4) Tension adjustable for different pipe coil.
5) Connects with coiling machine.
6) Taper roll with lifting and downing function.
7) Three places strapping.

Technical date:
Strap width 10mm
Strap thickness 0,8 mm
Type of strap Polyester
Strap quality Smooth /High quality polyester strap
Type of joint By friction - vibration
Joint location The strapping is performed in the front part of the wire coil.
Joint efficiency Approx. 75-80% of the breaking load of the strap (mentioned quality).
CONTACT US