Home
>
Products
>
Automatic Coiler
>
Vertical Automatic Coiler
>
Automatic hose coiling machine & pipe coiler banding machine
Description:
Automatic coiler
FCL-V600 is system belongs to vertical type automatic hose winding.It is an automatic line that can automatically complete a series of complete steps, from fixing the length, and then winding, cutting, strapping, winding, to the end step of the line. It takes very little space, but it can efficiently and quickly complete the tasks of automatic winding and packaging, which fully meets the high standard of packaging.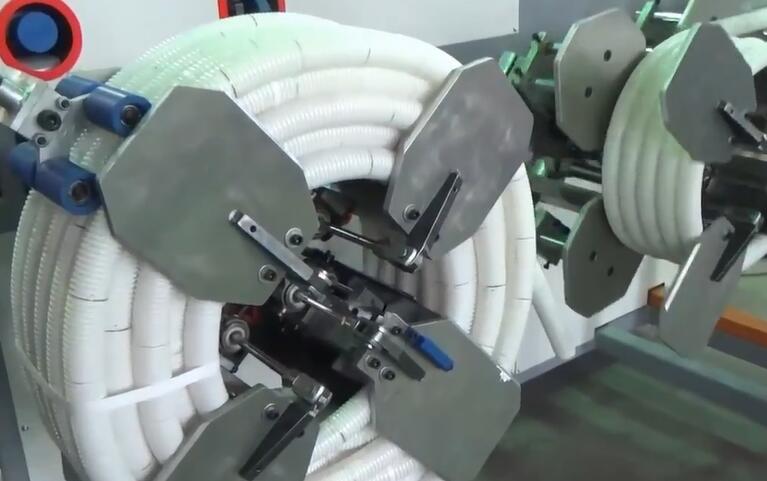 Function:
Automatically hose coiling machine is used to calculate of tube length, coil making and cutting.Then hold the loop and move it automatically to the next station.The figure can be set in PLC control program. The machine belt and connect terminal are automatically adjusted by safe welding.When the strap is inserted, the motor shuts off automatically.
Product specifications:
Machine No.
FCL-V600B
FCL-V600B
FCL-V600C
coil size
OD: Φ400-600mm
Height: 40-120mm
ID: Φ200-400mm
OD: Φ400-600mm
Height: 40-200mm
ID: Φ250-400mm
OD: Φ400-600mm
Height: 100-300mm
ID: Φ250-400mm
Tube size
OD:2-16mm
OD:8-20mm
OD:15-30mm
Air supply
6 bar
6 bar
6 bar
Meter counter
50-50
20-100
20-100
Coil feed style mode
Automatic
Automatic
Automatic
Note: The machine can be modified per different coil size.
Features:
1. PLC control program.
2. The setting parameters can be used in the control program.
3. The OD of coiling is adjustable.
4. The cutting length of the tube can be adjusted.
5.Two protection devices are used to fix and move the helix.
6.Automatically detect wrong function and alarm when failure occurs.
7.Positioning pipe through sensor.
8.The compression device keeps the tube stable.

CONTACT US