Home
>
Products
>
Automatic Coiler
>
Horizontal Automatic Coiler
>
Description:
Automatic Coiler
machine FCL-200 is used for the packaging of off-line pipe.It can calculate tube length, automatic cutting, coil making, PP binding and automatic shrink film packaging.All of these comply with CE criterion and use the latest technology and design standards for industrial use.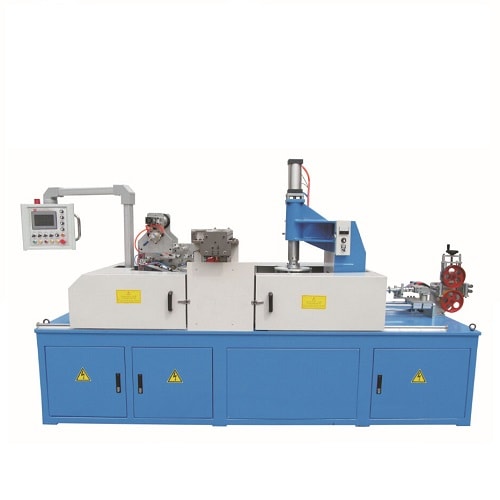 Function:
This automatic Coiler machine can automatically perform operations such as pipe cutting, pipe coiling, and fixed pipe ring energy by calculating the length of the pipe. These automated processes can all be set in advance in the PLC control program.
Product Specifications:
No. of packing material LLDPE/PE/PVC/:
Coil ID: 100-300mm
Coil OD: 300-400mm
Width: 200mm
Weight :20-80kg
Main wrapping speed(high/low) 18-35sec/pcs
Max speed of ring 100r/Minute
Power supply(high/low) 380V 60Hz 3P
Product Features:

1. The automatic operation of machinery and equipment can be operated by the PLC control program.
2. For the operation of the control program, it is necessary to set various parameters in advance.
3. The winding outer diameter of the machine is adjustable.
4. The cutting length of the pipe can also be adjusted.
5. The machine has two protection devices to fix and move the screw.
6. Don't worry about machine failure, we have automatic failure detection function. Once an abnormality occurs, an alarm will be issued immediately.
7. The machine has a special sensor that can accurately locate the pipeline.
8. The compression device equipped with the machine can keep the pipe in a stable state during the operation of the machine.



(2) Automatic wrapping machine

power :AC380V,3-phase,50HZ, or provided by customer
operation direction: inlet wire from left, or provided by customer
wire reel size:outside diameter:200-600mm; inside diameter:180mm-250mm;height:40-140mm
wire reel weight:max.100kg
PVC/PE/PP film size:thickness:25 microm, width50-70mm
way of loading plastic film:pneumatic loading
electric loop control :adopt Mitsubishi micro-computer programme controller(PLC)
operation panel:Graphic operator Interface
meter and switch on operation panel:touch screen, speed button, emergent switch
with automatic label device
CONTACT US