Home
>
Products
>
Automatic Coiler
>
Vertical Automatic Coiler
>
Description:
This is a vertical
automatic coiler
for corrugated hose winding.It is a one-piece device that can automatically complete a series of complete steps, starting from a fixed length, and then winding, cutting, strapping, winding, etc. It takes up very little space, but it can efficiently and quickly complete the tasks of automatic winding and packaging, which fully meets the high standard of packaging.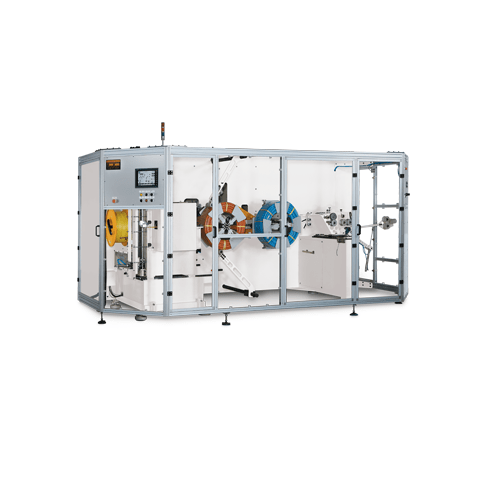 Function :
Automatic hose winding and strapping machine is used for automatic calculation of tube length, coil making and cutting.Then hold the loop and move it automatically to the next station.The figure can be set in PLC control program.
Product specifications:
Machine No.

FCL-V400A

FCL-V400B

FCL-V400C
Coil size
OD: Φ300-400mm
Height: 40-120mm
ID: Φ200-300mm
OD: Φ300-400mm
Height: 40-200mm
ID: Φ250-400mm
OD: Φ300-500mm
Height: 150-300mm
ID: Φ250-400mm
Tube size
OD:2-16mm
OD: 10-20
OD:15-32
Air supply
6bar
Coil feed style mode
Hold coil type
Meter counter
0.01m-100m
Power voltage
AC 380V, 50HZ, 3 phase
Features:
1.The feeding tube can be adjusted for ensuring the tension of the coil.
2.High speed winding multi-axis controls precision layered packing.
3.OD and width adjustable.
4.Automatic pipe feeding.
5.Automatically switch from one station to another, without reducing the speed of the extrusion line (twin-coil machine).
6.Pneumatic control winding baffle, quick and convenient.
7.The length of pipeline can be set in man-machine interface and calculated automatically.
8.Automatic cutting of each length.
9.Automatically order piping to ensure spiral wound.
10.Automatic PP 2/4 tape.
11.Automatic coil ejection discharge.
12.Man-machine interface, parameter setting, easy to operate.
The brand of basic part machine:
PLC: SIEMENS
HMI: SIEMENS
INVERTER: SIEMENS
TRANSDUCER: AUTONICS
ENCODER: AUTONICS
SWITCH/BUTTON/CONTACTOR: SCHNEIDER
CYLINDER: AIRTAC
SOLENOID VALVE: AIRTAC
GEAR MOTOR: TUNGLEE
CONTACT US