Home
>
Products
>
Automatic Coiler
>
Automatic Cable Coiler
>
Auto cable winding&shrinking&stacking packing line
Such a Full-automatic cable packaging line includes follow funtions: cable winder coiling, cable coil strapping, PE film sealing and shrinking & crane stacker with program system. The above cable handling and packaging steps are automatically required only one man monitoring. And one man is able monitoring the 4-5 same line. The designing of the mechanical and electrical are all conform to CE guidelines. The coil and strapping with the latest servo control technology for good cable coil shape.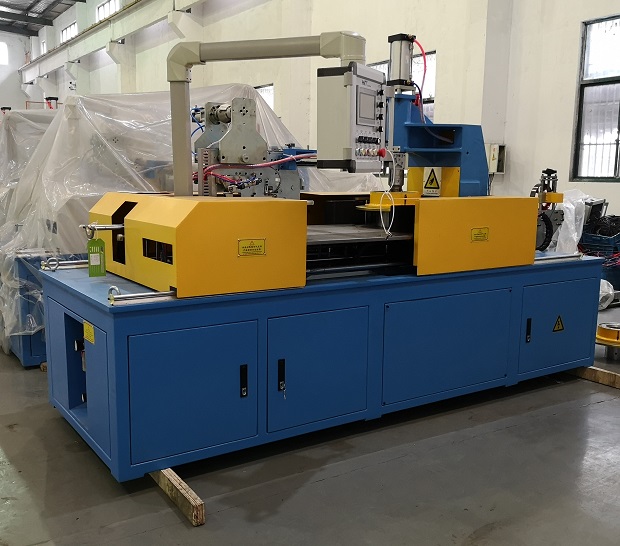 Features:
With fully automatic cable coiling and control systems that packing line can be used for different cable od and coil sizes. From winding cable coil to the cable coil stacking on pallet are controlled by PLC system with is able checking the cable coil position, automatic calculating the cable length, coil making and cutting off. After widing the holder auto grabs and moving the finished coil to strapping station for 2/4 belts strapping, then synchronize with bagging and sealing station, after thermal PE film shrink wrap, the cable coil will be gathering and move to pallet stacking.
Technical Data:
Coiling / winding size
ID: 145mm/220mm
OD: 195-380mm
Height: 80-120mm
Single cable diameter
2-6mm
Air supply
6bar
Coil feed style mode
Hold coil type
Meter counter
0.01m-200m
Power voltage
AC 380V, 50HZ, 3 phase
With PLC & HMI control program, easier to operate the machine.
By using the servo motor arranging-cable system,the arranging has a more coordinated action,and the cord is more beautiful.
Parameters can be set on the control program with English. No need to adjust entire machine structure, easier to operate.
Auto clamp and lift up the finished coils for heat shrinking packing through the hot oven channel. Cable coil handling auto loading and unloading coils conveying to stacking pallet, and auto arrange orderliness.The coils numbers each row of each column can be setting by HMI.
CONTACT US