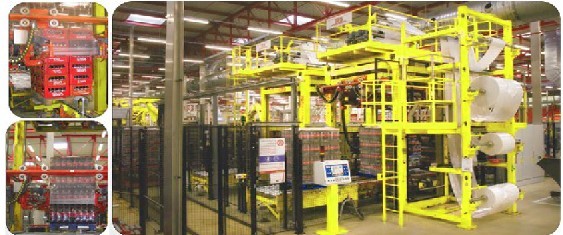 Description:
FHOPE stretch hood machine provide a great packing efficiency for nice package for pallets according specification. Compared to conventional wrapping methods available in the market, FHOPE stretch hood machine ---wrapping solution comes along with several outstanding advantages.
Features of Stretch hood machine:
1. Air-cooled sealing
system
guarantee a
steady function for
nice and strong package.
2. Smooth
package
surface
,well protect package
and lower energy consumption.
3. Material cost save and labor cost save
than stretch wrapping methods
.
4. Vacuum cups
system
adopted for
catching
and forming the
hood
for packing
.
Well designed
four grippers with well-proportioned for pulling the hood
which is for
cover
ing
the whole pallet .
5. Special device for pallet central lifting .
6. Photo sensors
connect with PLC
for automatically detecting the different pallets
.
7.
Most
Efficiency packaging speed with 60pcs/hour.
8. Machine adjustable for different packing sizes.
9. PLC&HMI adopted
10. Less maintenance required.
11. construction with heavy-duty and steady.
12. Avoid the damage in transmission.
13. The modified machine available for different products.

The stretch hood machine are apply to many different industry. There is able to help you with special modification or design such as providing separate machine or complete lines according specification.
The advantage of the stretch hood machine:
1. Nice packaging surface
2. Material costs lower
3. Easily maintaining.
4. Full sides sealing
5. Highly efficiency
6.Cost save
It is the totally new generation of packaging solution systems for pallet packaging to become shown industry--stretch hood machine. The machine is with lower energy consumption and provide a nice surface, have a better work capacity. Easy operation and controls system permit the machine to become run by common staff intuitively. These factures also respect an new generation of packaging system for improveing price-performance ratio.