Home
>
Products
>
Stretch Wrapping Machine
>
Automatic pallet wrapping machine
>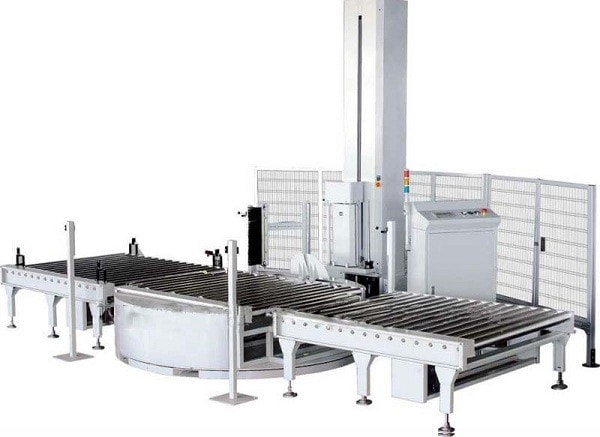 Description:
Automatic pallet stretch wrapping machine B200 series is used to wrap stretch film around a loaded pallet. It can meet the highest demands regarding capacity, adaptability from customer to customer and is easy to maintain and economical. Film provides extra support while the products are being transported & storaged to protect them from being damaged. Additionally , wrapped loads can easily be separated and identified. Automatic stretch pallet wrapper is widely used in chemical industry, electronic industry building field, food industry, etc.
Control
OMRON PLC

with push button interface.

Measure packing height automatically by sensor.

The film device can move up and down.
Wrapping break is adjustable.

Wrapping layers and zones are adjustable.

Load and unload flim easily.

The turntable speed is availble in 3-12rpm.

All the speeds are driven by motors.

Load film during 10sec.

Flim device can be controled manually and automatically.

Turntable has a jog button.
Turntable
2000KG weight capacity

T

urntable, loading and unloading conveyor lines are in a horizontal line.

Easy and convenient.
Soft start and soft stop
Film carriage
Pre-stretch system can be up to 200% of film consumption. (Prestretch ratio can be specially made according to your requirements.)

The door of film carriage is open or not as flimarriage door opens for effortless roll change and thread film

.

Film delivery is driven by separate DC Drive Motor

The bar of flim carriage moves up and dwon.

The turntable has double-chain motor make coveyor stable and safe.
Option
a. Ramp
b. Pneumatic top plate
c. Pneumatic film grab and cut off system
d. Packing height: 2800mm
e. Turntable diameter: 1800mm, 2000mm
f. Turntable capacity: 2500kg- 3000kg
g. Machine color
The automatic pallet stretch wrapping machine is a fully round stretch packaging machine. Its unique and special design perfectly connects the production line and the conveying line with the packaging device. You can free from arranging the forklift truck to deliver the product to the warehouse, the pallet stretch wrapping machine can deliver the product directly and automatically to your destination. It is not only convenient, but also very safe. It can cut down large expense to some degree.
For more details about the features of the automatic pallet stretch wrapping machine, please
click here.
CONTACT US