Home
>
Products
>
Stretch Wrapping Machine
>
Rotary arm wrapping machine
>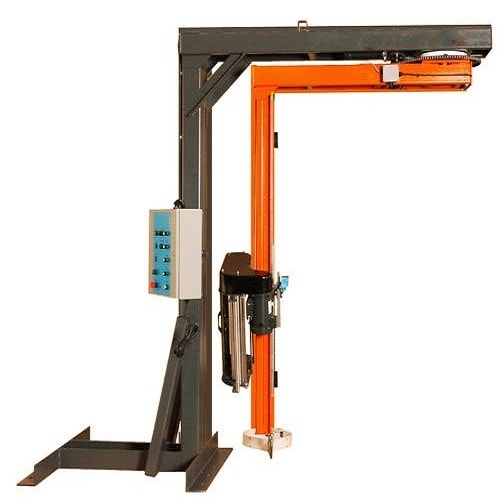 Features
The semi-automatic rotary pallet wrapper is a wall-mounted type. It is a stable standing machine, controlled by PLC system, including main engine, swivel arm, carriage and control panel. The rotary arm can operate around various loads through various operations. When the forklift is loaded at the packing station, the film is fixed to the load, and the start button is pressed and the packing is started. After packing, cut the film by hand and carry the load of the packing station with a forklift truck.
Technical Parameters
Working mode: semi-automatic
Loads per hour: 35 pallets
Rotating speed: 10-14 rpm speed variable via inverter.
Maximum load size: L1300mm x W1300 mm x H2300mm
Packing method: Bottom, middle and top wrapping layer can be set from 0-99 winds

Film Carriage System
Film(LLDPE): , OD 250mm, ID 76mm, width 500mm
Force -control: Variable by separate motor
Multiple protection device can ensure the operator safety.
(such as the white loop in the picture is anti-collision protective device.

PLC control system
Controller: PLC
Load height sensor: Photo-eye
Wrapping settings: Re-wrap function, overwrap and overlap adjustments
Wrapping counters: Independent top and bottom
Cycle counters: Total cycle counter and resettable counter
Emergency stop: Red mushroom head
Electrical disconnect: Lockable
Electrical enclosure: European approved
Can set special wrapping position (top, middle, and bottom) reinforcement
Arm position reset automatically
Variable rotate arm speed controlled by frequency converter.
Voltage: 380 AC, 3 phase 5 wires, 60 Hz. (adjustable)
Pneumatic: 6-8kgf/cm² (clean, dry air)

Structure

Strong structure and ling lift rotate arm designing.
Start & stop mode: Soft start & stop
Machine weight: app.650 kg
Machine size: app.4cbm
Construction: Heavy duty, welded
Film carriage speed: 2.9m/min
Stretch film is engineered to be elongated, which means that once it is stretched the true characteristics of the material emerge. Because of its engineered properties, the film has much higher puncture and tearing resistance when stretched. It also has greater load holding ability.
Stretch-wrap machines are cost justified on material, labor savings, and load unitization improvements with the majority of machines paying for themselves in one to two years. In terms of material savings, consider that today's high performance machines pre-stretch the material by 250 percent or more. This means that every foot of stretch film when off the roll, covers two-and a-half-times more area than if the material was not stretched at all.
CONTACT US