Home
>
Products
>
Stretch Wrapping Machine
>
Automatic pallet wrapping machine
>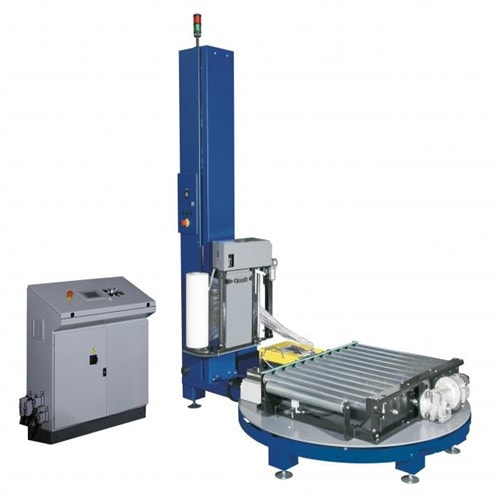 Application
Automatic pallet wrapping machine B100 series is used for automatically pallet packing with automatic pallet loading and position conveyor. It is connected to conveying line, which can dramatically enhance the wrapping efficiency.Meanwhile, it is equipped with a upgraded motorized pre-stretch system that allows a large saving of film while wrapping.It is fully automatic without manual interference except for changing consumable itemssuch as strapping, packing material and etc.
Technological process
The pallet will be placed on the infeed conveyor by forklift. Then motorized conveyor will transfer the pallet to its packing position. And then auto turntable pallet packing machine starts to wrap the strapped pallet with stretch film (LLDPE) automatically. Finally the pallet will moved out the outfeed conveyor by forklift. One packaging process is fully done.
Note: Infeeding&out feeding conveyor is option.
Performance
Working mode: Auto
Loads per hour: Min. 24
Maximum load weight: 1800kg
Wrapping method: Bottom, middle and top wrapping layer can be set from 0-99 winds
Construction: Heavy duty, welded
Controls
Controller: PLC system
Tension control: Pre-stretch controller
Operator interface: Separate buttons and HMI interface
Wrap settings: Re-wrap function, overwrap and overlap adjustment
Wrap counters: Independent top and bottom
Cycle counters: Total cycle counter and resettable Counter
Emergency stop: Red mushroom head
Electrical disconnect: Lockable
Electrical enclosure: European approved
Film Delivery System
Film (LLDPE): Thickness 0.025mm, length 500m-1500m, weight: 15kg
Film capacity: 500mm width x 76mm dia.
Film delivery type: Pre-stretch
Pre-stretch level: 250% (optional 100% to 300%)
Load height sensor: Photocell sensor
Tension control: Variable by inverter
Film carriage system up and down: Adjustable by inverter
Film threading: Jinglin design, W film threading pattern
Film carriage speed: 2.9m/min
Automatic mechanical hand
Pneumatic film cutting & wiping system
Film clamper mode: scissors like gripper bars
Automatic material clamping is ready for next wrapping.
Cutting method: instant heating wire
Sensor and PLC program control.
This device makes machine automatically and
unmanned operation.
Wiping system: soft brush to stick the film perfectly onto the pallets
Turntable roller conveyor
Drive mode: Chain-drive
Bearing type: Ring gear
Start & stop mode: Soft start & stop
Turntable diameter: 2200mm
Maximum load weight: 2000kg
Turntable height: app.400mm
Turntable rotating speed: Max.12rpm (adjustable)
Automatic turntable reset
Power Requirements
Voltage: AC380 V, 3Phase, 50 Hz
Turntable motor power: app. 0.75kw
Roller power: app. 0.75kw
Up-down motor power: app. 0.37kw
Pre-stretch motor power: app. 0.37kw
Air supply: 6-8kgf/cm2
Air consumption: app. 1000ml/min
Outfeed roller conveyor (Optional)
Forklift will move away the wrapped pallet out of the conveyor
The power pre-stretch is a specially designed device, which can fully utilize stretch film quantity; moreover, it allows the operator to wrap light and unsteady pallets that couldn't be wrapped with different frictioning systems. The stretch film is supplied in the right quantity by the rollers that are operated by a motor, which is controlled by an electronic system that measures the speed and keeps the film tension continuously on the whole pallet's surface. The motorized pre-stretch system, allows an efficiency of film up to 300%.
CONTACT US