FPS Series: Steel coil wrapping machine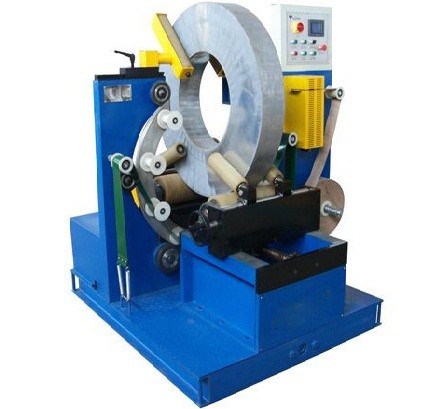 FPS-400
The Fhope provides packaging solutions for the metal coil industry. Our commitment in the industry contributes to the development of innovative, cost effective products some problems like loose, irregular packaging. Our sales, equipment service, customer service and engineering departments can help you to design optimum protective packaging system for your applications. To learn more about Fhope coil wrapping machine for steel coil, please check the following information.

.
Description:
FPS series is steel coil wrapping machine which mainly is used for steel coil, steel strip packaging, slit strip...with high efficiency and nice packaging effect and can save labor and material costs. The wrapping machine is wrapped through the hollow of the coil, and can make steel coil have a nice firm, dustproof and waterproof.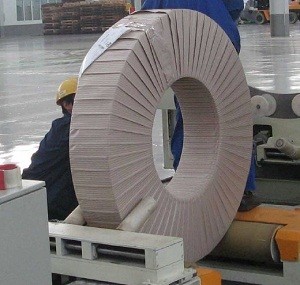 Features:
1. Operate automatically by PLC & HMI.
2. Simple loading and unloading by particular system.
3.Operate easily by automatic and semiautomatic work ways.
4. Adjust the speed of ring and rollers by converter..
5. Overlap area of the packing material according to your requirements.
6. Cut packaging materials automatically.
7. Guardrails, soft start and soft stop are protective designs..
8. The height of the ring could be adjusted for different ODs of the coil.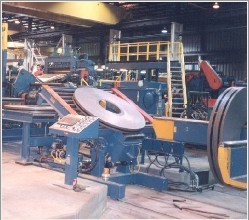 9. Packaging tension is adjustable by special breaker.
10. The rollers are wrapped by polyurethane for protect the surface of the coils.
11.Indicator alarms automatically when trouble occurs and trouble is shown, too.
12. Special brake of film device can avoid packaging material folding.
13. Wide packing material is available.
Note: Can be designed according to your specification.
Parameters:
FPS-300
FPS-400
FPS-500
FPS-600
FPS-800
Voltage (V/Hz)
AC 380/50( or your requirement)
Power (KW)
1.5
2.2
4.0
6.0
8.0
Steel coil ID(mm)
>300
>300
>400
>500
>500
Steel coil OD(mm)
600-900
800-1000
800-1200
800-1400
800-1600
Steel coil width(mm)
20-300
50-400
50-500
50-600
50-800
Steel coil Weight(Kg)
<300
<1000
<2000
<4000
<5000
Packing material
PE/Stretch film/knit belt/VCI paper
Ring speed(r)
30-80
30-80
30-70
30-60
30-60
Wrapping speed
30-40sec/pcs
35-45sec/pcs
40-50sec/pce
40-55sec/pcs
50-60sec/pcs
Overlapping rate
20-80%
Air supply.
5-7kgf/ c㎡
The Answers feed back from enquiry:
1.Is it possible to have ID 76mm for PVC/PE and paper?
Yes,it's able to ID 76mm for another material roller and feeding system.
2.Is the ID of coils adjustable?
Yes, The machine is adjustable for different ID during curtain range. 750, 850, 900, 950 are available.
3.What is the maximum weight of coil to be packaged?
It depends. The max weight can be 30T. We usually quote 5T for you.
4.Is it possible to band the package along with the perimeter after shrinking? I can use my own firm logo.
Yes, it is optional parts for LOGO adhesive. Please let me know the size of the logo tape.
5.Is it possible to adjust the tension of PVC/PE material. Do you perform this by regulator?
Yes, it can be adjusted by tension control device.
6.What do you suggest the thickness of PE/PVC nylon and paper? Can you give some details of a technical specification?
The thickness of the PE/PVC depends on your requirement. We prefer to PVC/PE &gt30 mircon, paper density &gt220g/m2.
Related machines: Coil wrapping machine Steel coil tilter
Coil tilter Coil packing machine