Cold Roll Steel Coil Strapping & Packing Line Manufacturer
This specification outlines is the equipment requirements of the Col roll steel coil Packaging Line for automation project. FHOPE will providing the on site installation and technical service.As a manufacturer, the packaging machines shall be complete except for equipment noted as 'Supplied by Others' in this specification. The latest proven state-of-the-art technology in the design, automation, and component selection shall be used for this equipment. Equipment shall be energy optimized wherever possible. The line is intended to be fully automatic and or minimizing where possible to intervention of personnel. The Packaging line shall be close coupled to the production line. And the system provides transport method of coils from the cold roll production line and from the Automatic Storage and Retrieval System (ASRS) to the Packaging line.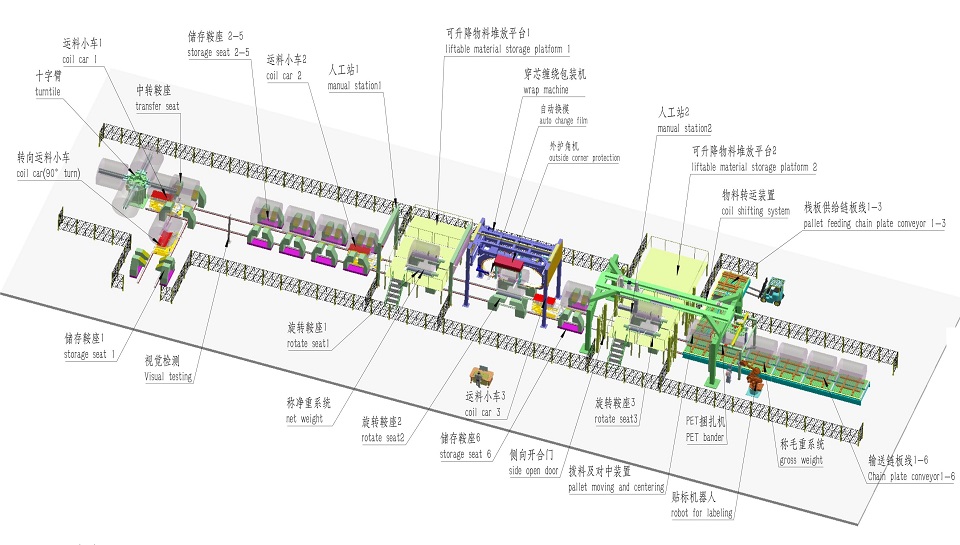 The typical packaging way of the cold roll steel coil packaging
1. ID hole protector
2. ID steel edge protector
3. OD steel edge protector
4. OD edge protector strapping
5. ID cardboard protector
7. OD cardboard protector
8. Cold roll steel coil OD strapping
9. VCI paper covering
10. VCI film stretch wrapping
11. Cardboard OD covering
12. Steel sheet OD covering
13. Side cover
14. OD Edge protector
15. Cercumferece coil strapping
16. Radial coil strapping




Circumferential strapping machine
This is Circumferential strapping machine with bridge crane for position adjustment that controls by PLC system for automatic steel coil strapping. It equipped with a strap coil belt dispenser in vertical that feeding and unwinding belt. The strapping head with pneumatic clutch.
The for steel coil OD strapping, the machine is able to move both to the right and to the left.

Radial coil strapping machine
The radial coil strapping machine is able forward and backward by the rolley-mounted mobile base for automatic radial coil strapping
The rotation orbital mechanism and belt dispenser system is for automaitc position adjustment for checking the coil hole for eye throught steel belt feeding and strapping.

Parameters:
| | |
| --- | --- |
| Machine Weight | 6500kg |
| Power Supply | AC 400V/50Hz |
| Power consumpation | 15kw |
| Operating pressure | 0.6mpa |
| Air Consumption | 500 Nl / cycle |
| Strapping speed | 20s per belt |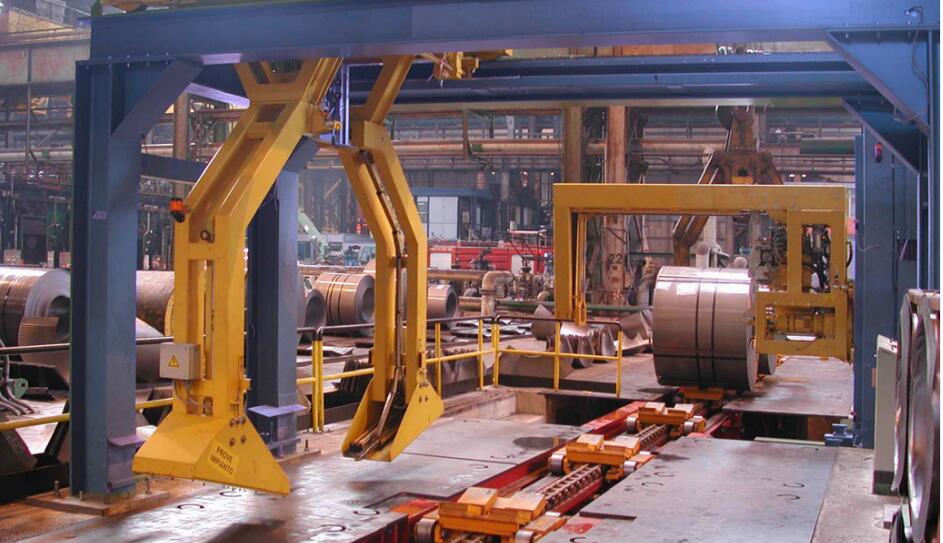 The automatic packing line equipment required to package the steel coils shall be determined by the SELLER. The automatic system would be designed to handle, transport and
process material from the coil production line. Apply the necessary packaging materials and make ready final packages to be removed from the line by the BUYER.
Below is general expectation of the line provision:
1. Entry coil receiving and separator retainment equipment from productionline
2. Entry coil receiving from coil storage bay.
3. Weigh scale with label applicator magazine and printer systems integration.
4. Coil ID and OD scanner (for input into coil wrapping system)
5. Installation of inner ID edge protector. (automation as option)
6. Installation of steel belt strapping machien for banding through ID (3 each). (automation as option)
7. Automated installation of banding around OD (≥4).
8. Automated installation of outer OD edge protection.
9. Automated through the eye wrapping of coils ( x3 wrap layers) with twin
film wrapping shuttle to apply different film types simultaneously, with
automatic film shuttle exchange unit, and film cutter clamp with heat seal.
10. Adjustable film pre-stretch capability up to 50%
11. Installation of plastic side wall protectors. (automation as option)
12. Installation of plastic outer wrap protector (full coverage or partial
coverage). (automation as option)
13. Installation of radial coil strapping bands through ID (x 2). (automation as option)
14. Pallet handling and placement/centering equipment. (automation as option)
15. Automatic coil loading on pallet.
16. Installation of cercumference coil strapping bands around OD (≥4) (bands coil to pallet) (automation
as option)
17. Installation of label (x2 - 1 End sidewall + 1 OD) (automation as option)
18. Exit Queue equipment ( up to 4 palletized coils)
19. Fully integrated Packaging Line Control System
20. Machine Platforms and Stairs
21. Machine Safety Guarding Package
22. Perimeter Guarding
Master Coil Stretch Wrapper
The jumbo coil stretch wrapper on the packing line is for coil eye through wrapping that is an automatic packing system with orbital stretch wrapper, trolley, hydraulic system, shuttles. The machine is iable up and down, left &right adjustmnet for automatic coil ID checking for VCI film application. By nice packaging tension and overrap, the package is moisture prove.