Automatic Slit Coil Packaging System


It is automatic slit coil packaging system that includes turntile, coil down ender, coil weighing machine, coil strapping machine and stacking equipment to handling packed slit coil from centering conveyor to pallet one by one.
The system is able help to Minimized the manually operation in handling the heavy coil which is more safety and efficiency way to stacking the steel coil.
Operation:
Coil move to the in-feeding station, automatic centering and raising the coil
Automatic coil pick up and lifting
Automatic palletizing the coil one by one on the pallet.
Pallet out-feeding.
A. Centering&Lifting table
1) Roller conveyor for moving the coil
2) Centering device for coil center with is able error correction for stacking
3) The coil will be raising for easy pick up by forks.
4) Automatic coil positioning.
B. Stacking machine
1) Strong and durable structure designing.
2) Manually feeding timber between the coil stacking.
3) Strong forks for picking up the coil
4) Mobile lifting coil picking, smoothandfast operation.
5) Mainly composed of a Gantry type mobile mechanism.
6) Gantry type shifting mechanism, ensure smooth movement of the steel coils.
7) Inside coil protector.
8) There is need timber block between thecoils.
9) Four supportive arms for protecting the coil in moving.
10) Accurate position for coil taking and stacking.
C. Conveyor station .
It is a conveyor for out feeding the palletized coils
² Max stacking height:1000mm (pallet height is included)
² Max stacking weight:6000kg
² Stacking platform:Conveyor
² Max stacking weight of single coil:3000kg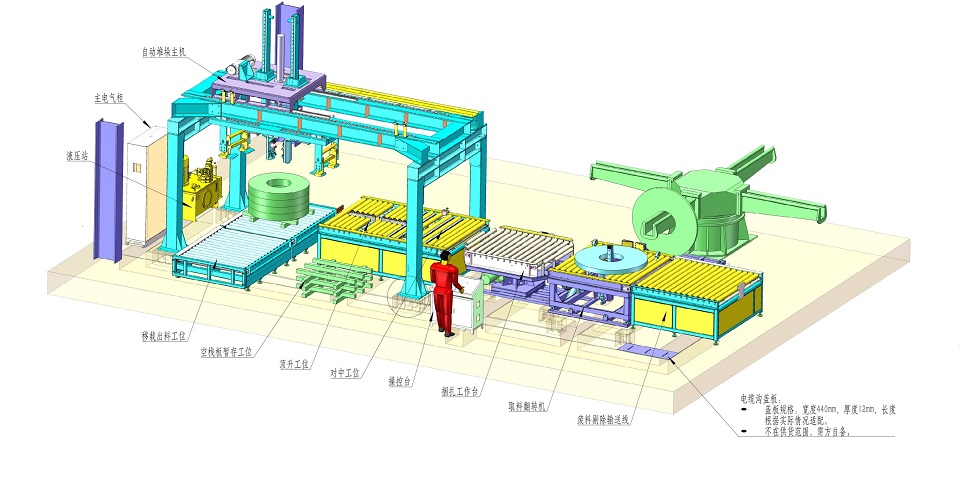 Technical date (for reference):
² Min slit coil width that can be downended:20mm
² Max horn extension: app.1800mm
² Horn travel powered by: Motor 3.0K
² Downender traverse powered by: Motor
² Linear motion slides/wheels/camrollers: Linear
² Lift powered by:Hydraulic
² Tilt powered by: Hydraulic
² Cycle time to downend (1) coil: 60"
² Conveyor length: 1600mm
² For covered rollers include:
---roll diameter: 100mm, length:1600mm, covering material:PU,Roll centers:150mm
Motor: 2.2Kw
² Power supply:380v 50Hz
² Hydraulic supplier: 140 bar
More coil packing lines: https://www.fhopepack.com/Automatic_Coil_packing_machinery.html