AUTOMATIC INLINE PALLET CHANGER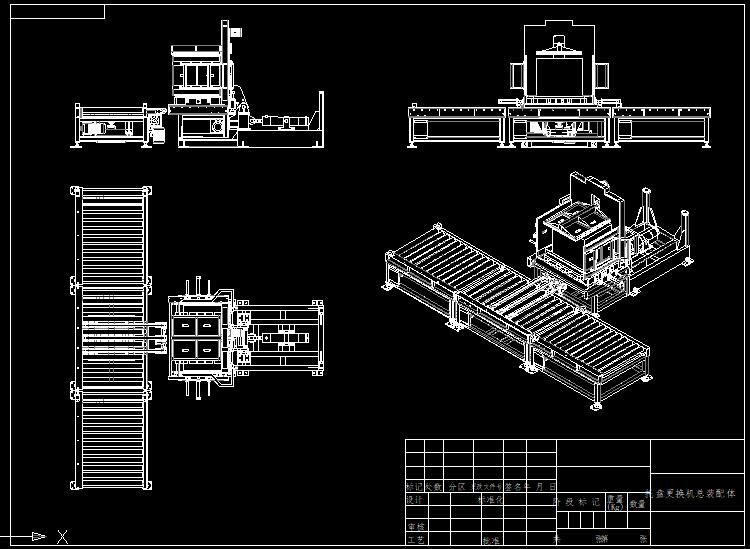 Automatic pallet inline changer
forms a three
clampers with ground level loading
which two clampers for holding the pallet left and dright side. The top press down device for fixing the pallet loading in upending. The picture shows the basice element in any pallet changing system. By inverting the product 180 degrees with automatic pallet in-feeding and old pallet stacking, you can retain your own pallets in-house and load containers in double-quick time. An ideal system for product which will be hand-balled out at its destination.
Features:
1. Excellent collections. Well-known brands are adopted for main components.
2. Prevent from manual stacking of goods effectively.
3. Strong structure and durable designing.
4. Reduces weight and maximizes cubage in the container.
5. Separate control panel and remote control for safer operation.
6. Clamper speed up the time for clamping, speed of turning is adjustable.
7. Mechanical and electric stop block prevent machine damage.
8. Smooth, accurate, vibration-free motion.
9. Two clampers fits for pallet with different height.
10. The low workking table height to the floor which is able loading the pallet by manual hand trolley load by ramp.
Technical parameter FPFZ - AU100:
Length: 1000-1300mm
Width:1000-1200mm
Height: 1200-2000mm
Pallet weight
:
1000-2000kg
Pallet loading table
:
1370x1220mm
Clamper adjusting range
:
1200-2200mm
Turnover Capacity (T)
:
2.0T
Turnover Time Approx (S)
:
30-50
Profile Welding(A3 Steel)
Operation Mode
:
Panel control/ Wireless Remote Control
Motor Power Approx (Kw)
:
7.5KW
Power Supply
:
380v,50/60hz, 3phase
Machine size
:
App. 2600x1500x2200mm
Configuration list:
180°Inverter Hydraulic and Electrical Configuration
Hydraulic Motor
Shanghai Ben Ma
Gear pump
Daojin (Tianjin)
Circuit Breaker
Schneider