Fhope 95 degrees pallet exchanger now has been upgraded. This pallet changing machine can make the pallet lift up and down. We only need to use a pallet truck on floor level to load and change the pallet. It is suitable for the scenes like the equipment with no loading.
This pallet changing machine has many advantages. It is not only can operate very steady and smooth but also has the strength of tilting fragile goods like ceramics and glass bottles. Our pallet changing machine has a unique design which can occupy less space for the operation and is helpful to simplify the pallet change process.
Fhope team works with you for finding the best machine that meets your layout and handling requirements in limited space for different workpieces and machining.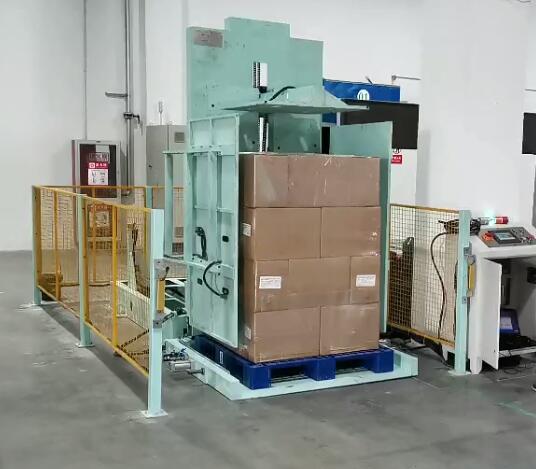 Easy Loading: It is designed for a big pallet with heavy load floor level in-feeding by fork name or fork lifter.
Easier Operation: Only push the bottom, the pallet ex-changing will be done automatically.
Load Interrupt: The machine is isolated from the operators for safety pallet exchanging.
Fast Exchange: The pallet can be exchanged pallets quickly and repeatably with low labor intensity.
Big pallet size range: Pallet sizes ranging from height 600-2000mm
Automatic pallet changer :
Techenical date:
Max.Loading:2000Kg
Drive: Hydraulic
Pallet size: L500-1200mm xW500-1200mm xHeight500-2000mm
Loading equipment: pallet truck/forklift
Fhope has rich experience in designing and manufacturing tilting equipment. Our team works closely with the customers to get to know their needs and ideas. Creating the best solution which matches with client's environment and requirements. We are open to researching new inventions and keep on improving our skills to make the best solutions.
The pallet chagner doubles as load straighteners as feebly accumulated or tilted loads can actually be made secure by taking on in the inverter. Change of raw materials to hygienic plastic/wooden pallets for usage in in-house becomes a wind and restoration of damage or fragmented pallets that would be a danger on a tracking system becomes methodical.