FHOPE providing the customzied heavy pallet changer for changing the pallet easily on floor.
The pallet changer is able holding the lose pallet for keeping the shape in pallet changing.
The top press down device holding the load per different height
Two sides holder adjustable for different pallet load.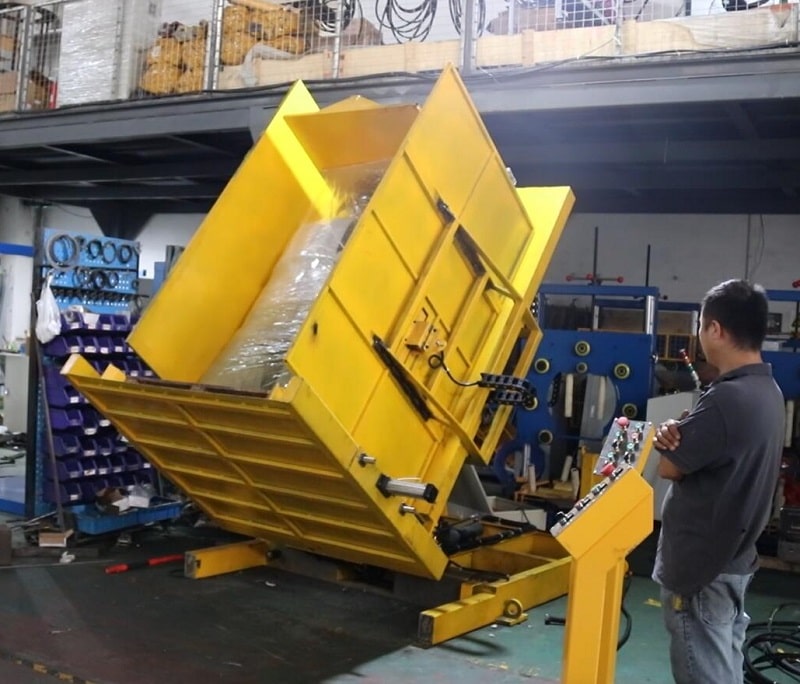 < src="/source/embed.js">
Model FPFZ-02F
Length: 1100-1200mm
Width: 1000-1200mm
Height: 1000-1800mm
Max.Loading 2000Kg
Changing speed 20-30sec
Turning degree 95°
Driving Hydraulic
Control Panel/ remote
Power 5.5KW
Incoming goods can be switched to the pallet for your application by heavy V shape pallet chagner online:
plastic or aluminum in disinfected sensitive areas
in-house racking pallets
particular sized or styled pallets which your own managing system is planned around
Inexpensive pallets if you like to use them but your supplier doesn't.
The pallet chagner helps to outgoing goods that can be relocated from your own option of in-house pallets to a variety of other options like:
wood pallets where plastic or aluminum are utilized in production
Dispensable or one trip pallets, where the customer is doubtful to return or change good ones
slip sheet or other slim pallets necessarily saving on cubage weight and pallet prices
customers respective pallets
sling bags
Inexpensive pallets where you like to preserve long lived on your own pallets but your customer likes to get pool pallets.
Also utilized for the simple inclusion of Freezer Spacers