Mould Tilter/Mould Tilter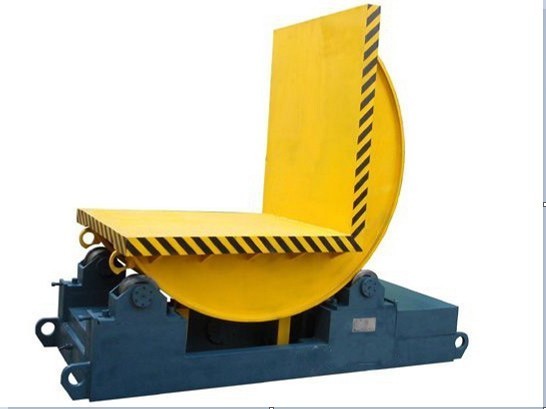 Description:
The Mould tilter, mould up ender mainly apply to turn the objects of mould. It also widely used in the module up-ending, coil turning, modules upending, roll upending... machine in above pictures is for steel coil, wire coil, aluminum coil. We forward this cost benefit to our customers providing them, in turn "value for money". Sophisticated Technology and Experienced Manpower We possess a state-of-the-art-technology and hi-tech upender and tilter machines that yield excellent results and ensure efficiency and quality of products. ...
The machine can be custom-build according client's requirement.
1.Drive system is with motor and gear box.
2.The conveyor can be connecting for loading and unloading.
Features:
1. Four-roller device wrapped with polyamide adhesive.
2. Special double chain drive, oblique gear and worm speed reducer.
3. Emergence stop and position locking function avoid rotation.
4. Two displacement restrictors adopted to grantee a safety operation
5. The machine can be stop at any angle in turning.
6. Inverter controls, Fast ,stable and safe.
Control:
1. Control panel or remote control
2. Invertors for adjusting the speed
Parameters:
FPCT-05
FPCT-10
FPCT-20
FPCT-30
Power Supply (V/Hz)
AC 380/50( or your requirement)
Power consumption (KW)
2.5
3.5
6.5
8.5
Max. Loading
5T
10T
20T
30T
Speed (sec/set)
20-40
20-40
20-40
20-50
Fhopepack is an industry leading manufacturer of upneder and tilter for mold, coil, spool... We offer a wide variety of manual, semi-automatic & fully automatic handling machines. It work together with handling and packaging solutions. Our complete tilter and packaging line of mold, wire, strip machines & systems are designed with simple and versatile designs. All our tilter built with high-quality materials to provide many years of service and offer a cost-effective solution for heavy objects handling.
Related machines: Upender Steel coil tilter
Coil tilter Coil packing machine
Download Brochure
Video
Send Inquiry
Contact us