180° Pallet Inverter forms a natural element in any pallet-less loading system. By inverting the product 180 degrees, you can retain your own pallets in-house and load containers in double-quick time. An ideal system for product which will be hand-balled out at its destination.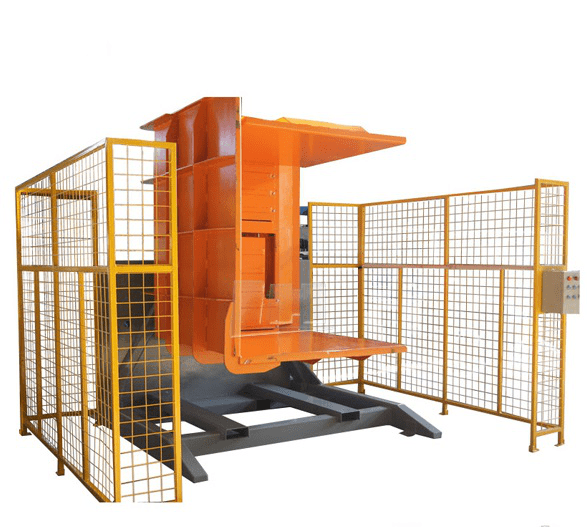 (FOR REFERENCE ONLY)
Features:

1. Well-known brands. They are adopted for main components.
2. Prevent manual stacking of goods effectively.
3. The pressing device is adjustable per different package sizes.
4. Strong structure and durable design.
5. Separate electrical box. In order to keep away from technical testing and trouble and can be safer to operate and test.
6. Turning speed. The turning speed can be adjustable.
7. Automatic start and stop.
8. Stop block. We have the stop block which includes Mechanical and electric in order to safe operation.
9. Control panel or Remote operation.
10. Motion. The motion is steady, accurate and without vibration.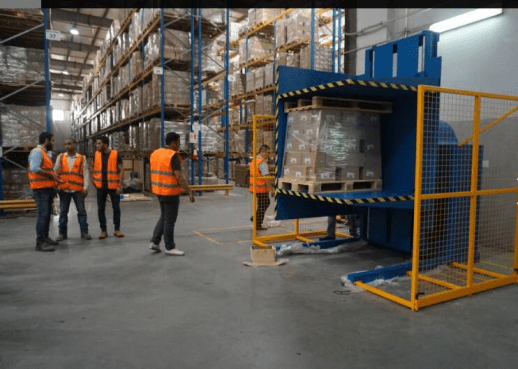 Technical parameter FPFZ-1:
Model FPFZ-1 Specifications
L1200mm x W1100-1200mm x H1200-2000mm
Turnover Capacity (T) Max. 1.2T
Turnover Time Approx (S) 50
Turnover Angle 180°
Turnover Body Base Profile Welding
Fixed Mode Dead Weight
Operation Mode Wireless Remote Control
Motor Power Approx (Kw) 2.2 KW
Power Supply 380v,50hz(Three phase five wire system)