Home
>
Products
>
Show Room
>
Coil Packing Line
>
Automatic copper slitting coil strip packaging line
The Automatic copper slitting coil strip packaging line production is a process that requires careful packaging of coils due to their value. Once they are cut and slitted, they are often bundled in a large copper sheet coil and tightly coiled into smaller lengths. The
automatic copper slitting coil packaging lines
, designed and manufactured by FHOPE, automate this process to ensure the coils stay safe during transportation from the factory to warehouses. This series of machines and equipment provides a safe, efficient process, meaning your slitting line can run smoothly and without any problems.
Operation process:
1. Copper coil car pick up the strip coils from the winding position of the slitting line
2. Moving and shifting the strip coils the turnstile arm.
3. Turning the turnstile for positioing the strip on the infeeding position of the packing line
4. Downender lifting the bare strip coil one by one from turnstile,
5. Copper coil downending 90 degree and shifting to conveyor roller station for packing.
6. Move packed coil to coil centering position.
7. Automatic strapping the steel coil through eye by 2/3/4/6 belts
8. Conveyor move out the coil to wrapping machine for film wrapping
9. automatic centering the copper coil for stacking on pallet.
10. Automatic labeling, stacking one by one on the pallet
11. Out-feeding the copper coils for pallet wrapping
The video of the copper strip coil packaging steps:
a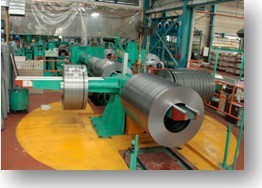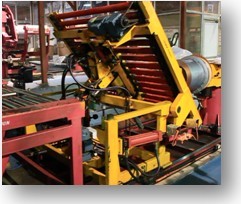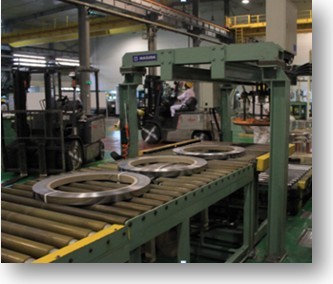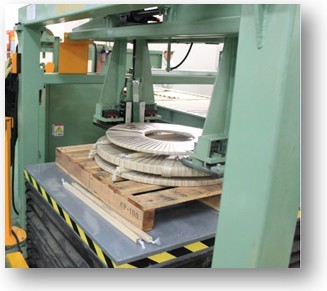 Coil strapping machine Coil pallet stacker
Coil Turnstile: For connecting with coil car for loading the slit coil.
Coil down ender: For picking the slit coil from turnstile and changing coil from vertical to horizontal and moving to conveyor.
Coil strapping machine: For coil strapping by PET/PE/steel belt.
Coil wrapping machine: For coil eye cross wrapping with packing material.
Coil Stacking machine: For moving and and storage the packed coil on pallet.