Home
>
Products
>
Coil Packing Machine
>
Copper coil packing machine
>
Automatic copper coil packaging line manufacturer
In the copper coil production, the manufacturer pack attention to the packaging since the copper coils are a valuable products that asking good packaging codition for protection. In the coil slitting line,the big brass coil often uncoiled from large spools and then slitted and coiled tightly into smaller copper strips. These coils are t need to be well protection packaged and transported to warehouses or factories by a team of packers. The Copper coil packaging lines desgined and manufacturied by FHOPE for for automation these protection packaging procession. It is a series of machines and equipment that improving the packing safety and efficiency that ensures your slitting line is running smoothly and efficiently without jam.
From the slitting production line to the warehouse, copper coil packing line has numerous devices and equipment that will achieve automatic conveying, packaging, strapping... without any gaps. With this solution, only one people required in the whole line operation.
FHOPE manufactures market-approved copper coil packaging line systems that provide good packaging per different specification and packaging goal need. The main solution is about horizontal forms copper coil eye to sky packagging which makes the copper coil move on flow stream conveyors at variable speeds.
Our goal is to ensure reliable and optimum packing line performance with a Service Contract. Besides the online remote monitor and assistant, our team providing the globe on site service for installation and commission.Your equipment can be serviced by Fhope Packaging technicians on a monthly, quarterly, semi-annual, or annual basis, depending on your requirements.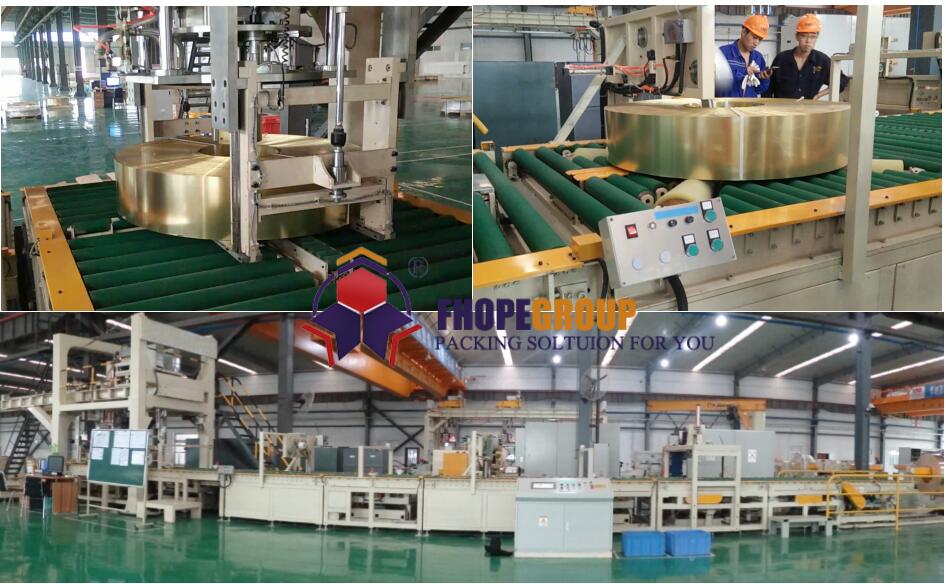 Basic data:
Copper Coil info:
OD: 500-1200mm, ID:300-610mm, Width 10-300mm
Strapping: by PP or PET
Packing material:
Paper: ID50mm, OD450mm, width90-120mm
Strech film: ID50mm, OD100-180mm, width90-120mm
Packing speed: 40-60 coils per hour
Weighing: Available
Label: Option available
Power supply: Per requirement.
CONTACT US