Coil Turnstile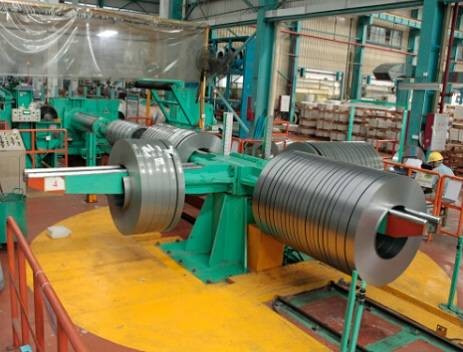 The Turnstile is mainly used for storage of copper coils, strip, slit coil... It can effectively connect with the single coil separating device; can connect with special coil picking system.
Basic feature
Hollow structure design.
Arc shape supporting surface.
The upper transmission mode, easy for maintenance.
Signal positioning combined with mechanical positioning adopted.
Stable structure, safe and reliable operation.
Main technical features
Dimensions: please see attached drawing.
Effective length of the support beam:850mm
Upper surface height of the support beam:1450mm

Max loading of single beam:10T
Turnstile total loading:40T
Turnstile speed: about 2 circles/min
Motor power: about 3.0kw
Power supply:380V,50HZ
Installation
The machine should be placed on flat base.
Constructions should be carried out as per the drawings.
Need secondary grouting operations.
We will provides the construction drawings.