Home
>
Products
>
Coil Packing Machine
>
Copper coil packing machine
>
Copper tube coil packing machine
The copper tube coil packing machine is an horizontal type coil wrapping machine for copper tube packing with paper/woven/PE and stretch film…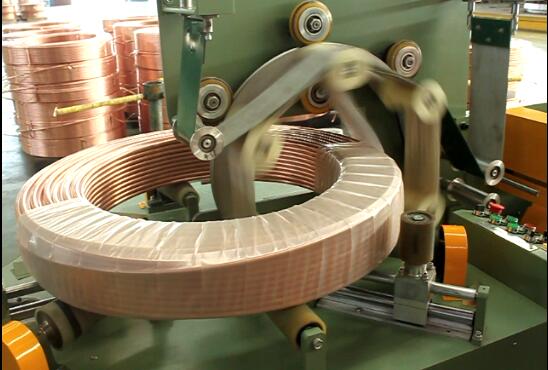 1. Easy to operate machine even for non-technical people.
2. Easy daily maintaining machine with strong structure.
3. Inverter adjustable for wrapping ring.
4. Auto conveyor can be listed for packaged coil moving to stacking.
5. Trouble Indicator alarms automatically.
6. Overlap rate from 20%-90% be adjustable according to requirements.
7. Wrapping tension adjustable for different size product.
8. Ring speed adjustable through inverter.
9. Roller speed adjustable through inverter.
10. Paper/HDPE/woven sheet… material can be auto cutting off.
11. Different packing material can be chosen for using.
12. Wrapping ring original positioning reset.
13. All contact surface be covered with PU for product protection.
Technical parameter of packaging line:
Object weight: 50-300kg
Package width: 10-300mm
Package OD: 600-1200mm
Package ID:500-800mm
OD-ID:<500mm
Roller Speed:2-4m/min
Wrapping speed:25-45sec/pcs
Rotating speed: 20-110r/min
Overlap scope: 20%-90%
Power voltage: 380v/50/60Hz/3ph
Air supply:5-8kgf/m2
Packing material: woven belt/Paper/
ID:50mm OD:150-400mm Width:90mm
Basic configuration:
PLC- SIEMENS HMI- SIEMENS, Converter- SIEMENS, Sensor—Autonics, Encoder-DELTA, pneumatic element-AIRTEC,Main motors-Dongli/Jiemai,switch、button、Contactor- Schneider.
CONTACT US