Home
>
Products
>
Show Room
>
Orbital Stretch Wrapper
>
How orbital stretch wrapper packing the short package
The orbital stretch wrapper designed for the package with Min.Length 400mm.
The problem of the orbital stretch wrapper for small and short package is mainly two points:
1. The package too short to pass throught the gap of the infeeding and out feeding conveyor.
2. The packing tension is not good by big ring compitiable for small package.
For resolving the problem, this machine desgined with
a. transfer conveyor in the wrapping position for supportive and moving the package.
b. tensioner draw back controller for keeping the consistant film tension in wrapping.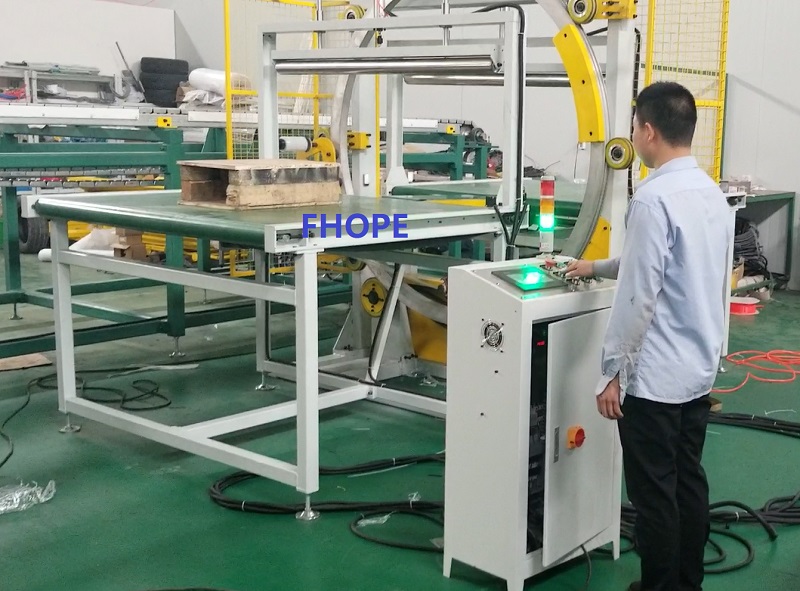 Object size: Length:400-2500mm Width:600-1500mm Height: 50-200mm Weight:10-110kg
Infeed conveyor working length and width 1500mm L×1600mm
Outfeed conveyor working length and width 1500mm L×1600mm
Material: LDPE stretch film Width: 250mm OD: 100-250mm ID: 76mm (Let me know, if you need another size)
Air Supply 5~8kgf/cm2
Conveyor Speed: 3~12m/min
Ring speed: App.20-60r/min
Packaging speed 20-30sec/pack
Power output: about 4.5kw
Power voltage: AC 380v,50Hz,3Phase
Control Power voltage ADC24V
CONTACT US