FPW Series: Wire coil wrapping machine
-FPW-500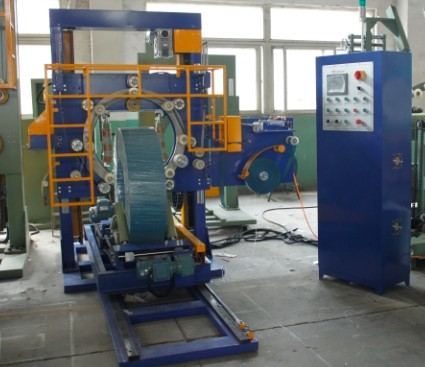 .
Description:
FPW-500 series wire coil wrapping machine is with trolley for loading and unloading. All-Electric Operation: Siemens PLC provides unparalleled control of coil packaging machine device movements with exceptionally simple maintenance. The PLC drives are essentially invisible to operators and maintenance personnel as it manages all positioning functions. All-electric operation results in higher speeds, gentle handling, increased reliability, lower maintenance cost, and energy efficiency.
Features:
1.Automatic or semi-auto working mode for choose.
2.N & W tape threading type are available.
3.Wrapped with anti-wear polyurethane active & passive friction wheels and integral mould structure devices antiskid and safe, making package object more stable and tidier.
4.Different packing materials might be adopted: woven belt, compound paper, crepe paper, non-woven fabric, sackcloth tape, stretch film, PE film, LLDPE film, HLDPE film and so on.
5.Ring center height could be changed based on the package object's specification.
6.Overlap extent and tension degree of packing material could be regulated as the customers' need.
7.The mechanical hand device can be used to feeding & cutting packing material automatically.
8.Pushing-out device is optional, to carry out the packaged object easier and more convenient.
9.Labeling device and side press roller can be use on the basis of customers' requirement and packing coil characters.
10.Special cutter with cylinder, could cut various kinds of packing materials. Note: Can be designed according your specification.
Parameters:
FPW-500

Voltage (V/Hz)

380v 50Hz 3Phase

Power (KW)

2.5kw

Steel wire coil ID(mm)

>400

Steel wire coil OD(mm)

700-1200

Steel wire coil width(mm)

100-500mm

Steel wire coil Weight(Kg)

50-1000kg

Packing material

PVC/LLDPE/PE/PAPER/HDPE

ID:50mm OD:100-250mm Width:100-300mm

Overlapping rate

10%-90%

Air supply.

4-6kgf/m2
The machinery is flexible for specification requirements, which can be designed almost any size of steel wire coil. It can operate with remaining stationary and loading coils presented by crane, C-hook or truck to a mobile coil trolley that traverses into a packaging station. Coils can also be brought to the station by coil trolley or coil tipper, coil tilter conveyor. The machine can do film cut and wipe automatically adjusts to any load size, assuring reliable film tail treatment. Wrap head pre-stretch capabilities can reliably pre-stretch film at the upper range of film specifications reducing overall film use. .
Another machines:
Steel Wire packaging machine

The faster and high quality in steel wire coil packing machinery for steel wire industry from Fhope. The solution is per coils from wire coils, such as PC wire wrapping machine, pre-strand wrapping machine...

Coil tilter

There is able to help you design the optimum protective coil tilter, upender working with steel wire packaging for your application. The handling equipment in tilter, tipper, down ender...

Steel wire coil wrapping machine

The trolley for wire coil crane loading and turning which rotates the coil 360 degree for eye through stretch wrapping. The material fix next to the wrapping station.