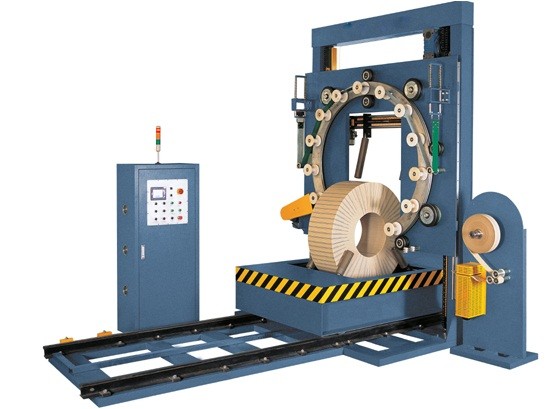 .
Description:
FPW-600 series wire coil wrapping machine is an version for for loading and unloading by trolley with track. It is mainly used to big size wire coil packaging, sucha as PC wire coil, compacted wire coil, pre-strand wire coil packaging, ... It is able do the wrapping in highly efficiency and nice packaging. Saving labor and packing material cost is another important factor makes it popular in the wire coil production factory. The machinery is flexible for different coil specification and packing requirements, which can be designed per factory loyout and handling mathod.
Features:
1.Automatic or semi-auto working mode for different package and packing procession.
2.Packing material fixing on the ring and next to the wrapping station.
3.Roller covered with anti-wear polyurethane active & passive friction wheels and integral mould structure devices antiskid and safe
4. Packing material: woven belt, compound paper, crepe paper, non-woven fabric, sackcloth tape, stretch film, PE film, LLDPE film, HLDPE film per requirement.
5.Main board and Ring height motor adjustment per package object's specification.
6.Overlap rate adjustable.
7.The packing mechanical automatic feeding & cutting by clamper
8.Coil loading from top size to carry out the packaged object easier and more convenient.
9.Top covering around the package OD
10.Automatic packing material length counting and cutting per wire coil size
Parameters:
FPW-600
Voltage (V/Hz)
380v 50Hz 3Phase
Steel wire coil ID(mm)
400-900
Steel wire coil OD(mm)
650-1200
Steel wire coil width(mm)
100-600mm
Steel wire coil Weight(Kg)
100-3500kg
Packing material
PVC/LLDPE/PE/PAPER/HDPE
ID:50mm OD:100-450mm Width:100-120mm
The packing machine version vary from the handling equipment. There are stationary wrapper and loading coils presented by crane, C-hook or truck to a mobile coil trolley that traverses into a packaging station. The solution for moving the wire coil can be coil car system too. The machine can also move in and out, positioning itself by limited sensors alongside a packing station. For easy loading, the machine can be installed in floor . Supportive rolls are incorporated into the packaging station and can be either stationary or mobile with truck as well.

Steel Wire packing solutions
The most efficiency steel wire packing machinery for steel wire industry from Fhope. The solution vary different from wire coils, such as PC wire wrapping machine, pre-strand wrapping machine...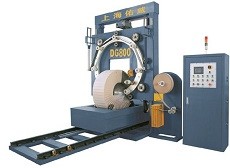 Wire wrapping machinery-FPW800
Heavy designing machine for big wire coil wth width 100-800mm. Equipment is engineered to be durable, easy to use, and the safest on the global market. It can be designed per different specification.
wire coil Wrapping machinery-FPW500It is a wrapping machine with PLC&HMI control panel for program packaging with high speed which is able replace 4 worker in wire wrapping.