FPW Series: Wire coil wrapping machine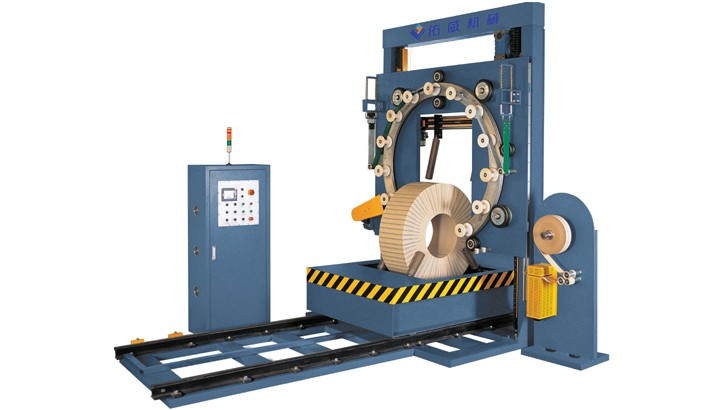 FPW-800
FPW-400
Fhope
packing machinery is a professional supplier to provide steel wire coil wrapping machine solutions. the success for Fhope wire wrapping machinery is its ability to special designs according client's specification in the industry. The horizontal or vertical type wrapping is able to provide different way for packing goal. The company's ongoing commitment is to provide innovative long-term solutions that allow machines to meet end user needs by consistently producing high-quality and money save packaging.
Application:
1. Galvanize Iron wire
2. PC wire
3. Pre-strand wire
4.Stainless wire
5.Magnetic steel wire
6.Razor wire
7.Wire rod.
Description:
FPW series is mainly used to packaging of steel wire coil, copper coil... which is with highly efficiency and nice packaging for saving labor and material cost.
Features:
1. PLC & HMI for automatic operation.
2. Special system for easy loading and unloading and lower tension of labor
3. Two working mode for differently operation requirement.
4. The converter is adopted to adjust the speed of the ring and rollers.
5. Overlapping rate of the packing adjusting according to requirement.
6. Automatically material cutting function.
7. soft starts and soft stop ring with guardrails, for safety.
8. Height of the ring could be adjusted for different OD of the coils
9. Packaging tension is adjustable by special breaker and tension control system.
10. The rollers are covered by polyurethane for protecting the surface of the wire coils.
11. Ring jog, ring reset
12. Special brake for the tape release device to avoid material folding.
13. Widely packing material applicable.
a. LLDPE stretch film b. HDPE C. PE film d. Goffered paper c. VCI paper
Note: Can be designed according your specification.
Some wire coil wrapping machine in operation today incorporate some conveyors, coil tilter and stackers
features that can allow a best packaging to avoid damage on a product. And packaging lines have draw more and more attention in recent years because of increased needs to package with more efficiently and save money without product marking.

Related machines: Coil packing machine Steel coil tilter

Coil tilter Steel Coil packing machine