FHOPE leads the way in Wire Coil wrapping Machine to help improve your packaging process and save cost. This unique machinery, which packing coils through eye core, is flexible and can be tailored to meet the specification of each customer and packaging line configuration.
Coil data and customer specifications are manually input as coils enter the packaging machine. This data can contain pertinent information such as:
• OD of wire coils
• ID of wire coils
• Width of wire coils
• Weight of wire coils
• Required wrapping speed
• Required wrapping layer
• Customer identification number
Wire coil wrapping machine can utilizes coil information to produce handling choices in automating the coil packaging line system.
Wire coil wrapping machine utilizes PLC&HMI for operate by touch screen interface for modifying, viewing and entering coil details.
The touch screen that allows operator to evaluate coil information for every figure verified.
Wire coil wrapping machine supplies a means of packaging adjusting, revise and adjustment. In complicated packaging procedures in mill, error occasionally occur. Once the error is going to be proven or information might be improperly altered with the owner, the very best data could be safety. This functionality allows the owner to alter information for just about any coil within the contact scream and after that move forward with automated packaging operation
Description:
FPW series wire coil wrapping machine is equipment designed mainly used to packaging solution of steel wire coil, copper coil... It is an highly efficiency equipment for coil shape package and is a nice packaging solution for saving labor, product protect and material cost.
Features:
1. PLC & HMI for automatic operation.
2. Special system for easy loading and unloading.
3. Manual and automatic working mode for easy operation.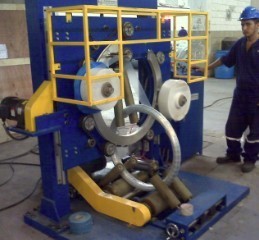 4. The converter is adopted to adjust the speed of the ring and rollers
5. Overlap of the packing tape according to requirement.
6. Automatic material cutting.
7. Guardrails, soft starts and stop for safety operation.
8. Height of the ring could be adjusted for different OD of the coil
9. Packaging tension is adjustable by special breaker.
10. The rollers are wrapped by polyurethane for protect the surface of the coils.
11.Indicator alarms automatically when trouble occurs. Trouble can be shown automatically.
12. Special brake for the tape release device to avoid material folding.
13. Widely packing material applicable.
Note: Can be designed according your specification.
Voltage (V/Hz) 380v 50Hz 3Phase
Power (KW) 1.5kw
Steel wire coil ID(mm) >300
Steel wire coil OD(mm) 500-800
Steel wire coil width(mm) 100-300mm
Steel wire coil Weight(Kg) 10-200kg
Packing material PVC/LLDPE/PE/PAPER/HDPE
ID:50mm OD:100-250mm Width:100-300mm
Overlapping rate 10%-90%
Air supply. No
The machines is flexible for different specifications, which can be designed for almost any dimensions of steel wire coil. It can operate with staying stationary and moving coils by crane, C-hook or vehicle to loading coil to trolley that traverses into a packaging station. Coils may also be taken to the station by coil trolley or coil tipper, coil tilter conveyor. The trolley device can also shift out and in, placement itself by restricted sensors alongside a packaging station, or keeping on floor side rails enabling the machine to maneuver to many packing stations.The wire coil packing machine can be designed to no gap connect with your storage of packing line.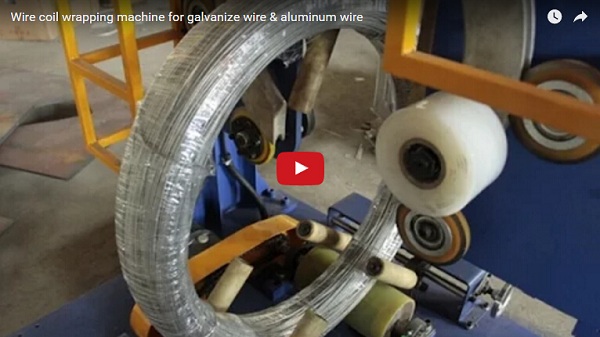 Another machines: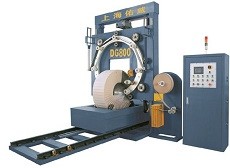 Steel wire packaging machine-FPW600
The most efficiency steel wire packing machinery for steel wire industry from Fhope. The solution vary different from wire coils, such as PC wire wrapping machine, pre-strand wrapping machine, GI Wire wrapping machines..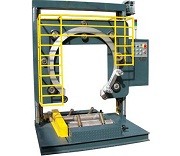 Steel wire coil packagin machine-FPW400
There is able to help you design the optimum protective coil tilter, upender for your application. To handling the coil from vertical to horizontal for storage and transportation satety.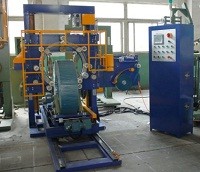 Steel wire coil Packing machine FPW-500
There are different solution for differently packing requirement which including steel wire, copper, weld wire...The stretch film +paper two layers packaging materials