Home
>
Products
>
Shrink Wrap Machine
>
Automatic Shrink Wrapping Machine
>

EPS/XPS/Glass Foam/Isolution Panel Packing Machines
Fhope provides series packing machine for pane packing that includes panel shrink bundling machine, panel shrink wrap machine. panle handling and packaging line. There are different types customized solution has been designed by Fhope's best engineers and designers. The machine makes the sealed and nice perfect package to prevent the products in storage and transportation. The machines are easy operation by non skilled operator with high efficiency . The reasonable price also made the machine investment cost return fast.
Our rich experience team will try our best efforts to assist with your projects.

■ Flooring industries (parquet, laminate, cork, and solid wood).
■ Moulding industries (panels, strips, and solid wood).
■ Kitchen and bathroom industries.
■ Furniture (knockdown).
■ Board industries (bench, ceiling, wall boards).
■ Door and window industries.
AUTOMATIC PANEL SHRINK BUNDLING MACHINE
The way to improve your panel packing from manually to automatically
This is an panel bundle shrink packing machine that designs according different panel size bundle and film packing requirement . There are different types connection mathod to connect the shrink wrap machine with panel production systme. Fhope provides conveyor and handling system too for achieving the higher level automatoin. No matter panle bundling,strapping, labeling...our system are able to reduce huge amount of labor cost by flexiable designing.



AUTOMATIC PANEL BAG PACKING MACHINE
This is the EPS bag packing machine that designed for sealed panel bagging without heating. It suitable for low Heat Resistant Level panel. This a panel bag packing machine that is for filling the panel inside of the bag which is making on the machine by bag foming device. The bagging machine followed the world's high end technology.All the parts are from well known brands with high quality and rich manufacturer experience. The core part is can be driven by servo motor and servo cutter for high speed to achieve more efficient packaging;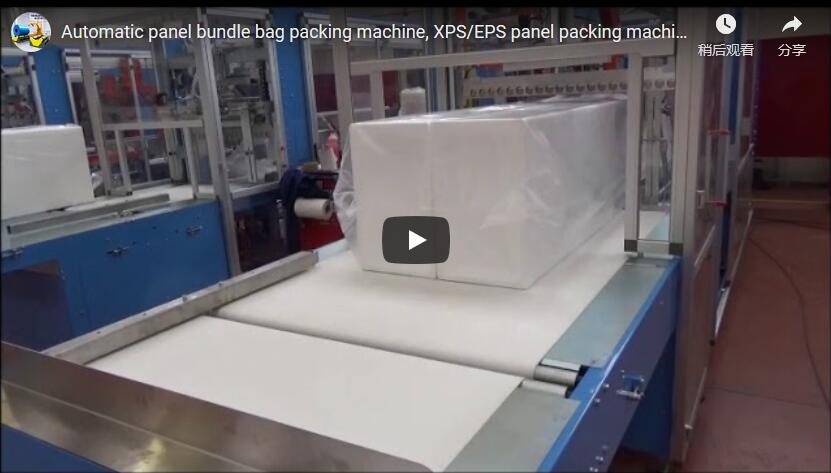 11. The front feed in systems speed is adjustable, combines a worktable at the end of the tunnel, makes whole machine highly automatic, it runs automatically without an operator comes true.
+ Technical Data
Bag size: customized
Sealer: 2 set
Control system: PLC&HMI
Air supply: >5Bar
Powr Supply: 380V



AUTOMATIC PANEL BAG SHRINK WRAP MACHINE
Description: It is the EPS packing machine including the bag forming machine+ heat shrinking tunnel for sealed shrink wrap packaging.
FPSH-D series is a automatic shrinking machine for Panels with one side sealing and full sides packaging,... which is with highly efficiency and nice packaging for saving labor and material cost.
The bottom is overlap and sealed packaging .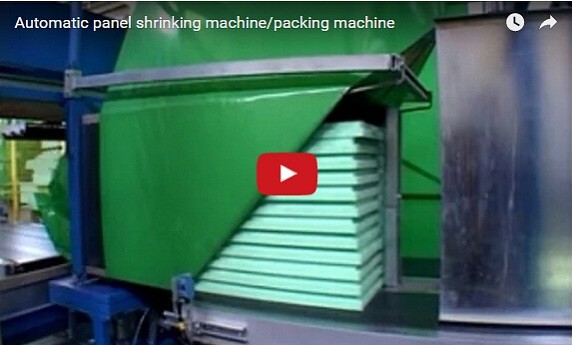 Technical Features:
1. It can be combined with an automatic production line for automatic shrink wrapping, which including feeding the packing material, sealing, material recover…
2. Full sides shrinking packaging
3. Adopts photo electricity for inducing the products for fix the position.
4. Two feed-in modes, auto/manual can be choosing,
5. Adopts PE or POF film on rolls, and the machine will seal other three sides automatically.
6. According to different collocations for the machine and different products
7. Constant temperature heat sealing and cutting system is suitable for PE. PVC. POF etc, industrial standard shrink films.
8. The sealing width is adjustable for different products
9. Hi-speed hot air circulating shrink tunnel.
10. Sealing system: permanently heated seal bar with easy-exchangeable sealing blade without odorous, temperature controlled and detected by PLC
11. The front feed in systems speed is adjustable, combines a worktable at the end of the tunnel, makes whole machine highly automatic, it runs automatically without an operator comes true.
+ Technical Data
1.Sealing part 2. Shrinking part
Control: PLC Structure Material: Carbon Steel
Structure Material: Carbon steel Length:2000mm
Packing Objects: Shrinking tunnel:4000mm
Length: 300-1000mm Heating Power Consumption: App.15Kw
Width: 30-500mm Calorific: 4PCS
Height: 180-500mm Cooling Fans: 1 Group
Height of Working Table: app. 800mm Temperature: 100℃-220℃
Conveyor speed: app. 4-9m/min Packing Material: PE/POF film with reserve pore.
Packaging Type: Full packaging Power Supply: 380V
Packing Material:
PE/POF/PVC film with reserve pore.
Sealing part power consumption: app.1.8KW
Power Supply: 380V
Air Supply: 6~8kgf/cm2




CONTACT US