HOW TO CHOOSE AUTOMATIC STEEL TUBE PACKAGING LINE AND SYSTEMS
FHOPE provide various industrial steel pipe and tube handling equipment with automatic pipe tube packing line. The pipe tube handling equipment in many process such as tube bundling (pipe bundling), steel pipe, copper tube, stainless steel tube strapping , tube packaging and stacking. Various styles of pipe packaging are available such as round, square and rectangular tube with hexagon or square size. Automatic or manual wrapping and strapping options are available. FHOPE also offer automatic counting device, layer lifter,. Automatic conveyors are used to accumulate strapped and wrapped bundles for pick up by fork truck or overhead crane.
For choosing a proper packing line per different steel tube, threre are two types solution that is differently in bundle stacking way:

A. MECHNICAL TYPE BUNDLE MACHINE
This type packing line is choosing the forkarms for pipe lifting and bundle stacking. It is good choice for the steel tube OD>32mm. Because of the pipe OD<32mm is no easy to make a good bundle shape without manually assistant.
The forkarm number can be choose per pipe length. And the steel tube row stacking system avaible for "hexagonal,square, rectangular shape"

1)Mechanical arm-forks for bundling.
2)The forming device is adjustable per different bundle shape.
3)The tube move to bundling position by pushing;
4)The tube stacking stopper pushes out;
5)Tube bundling stopper pushes out and clamps the tube row tightly;
6)Supporting forks reset;
7)The tube bundling stopper pushes out to protect the tube bundle well from loosening.
Avaible function in the system:
Weighing system
Labeling system
Strapping machine
Water blowing device
Bundle Accumulation station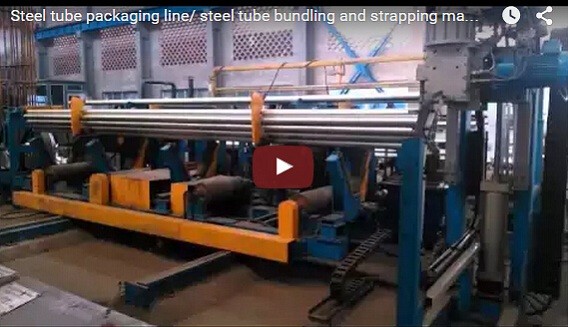 It is a chose for handling the non-magnetic conductivity tubes such as: Aluminum tube, stainless steel tube, copper tube, alloysteel tube


B. MEGNET TYPE BUNDLE STACKER

This type packing line is choosing the megnet stacking machine for pipe lifting and bundle stacking. It include the megnet chamber and crame type lifter which works for any type of magnetic conductivity steel tube with any side. It is easy to carrry tubes one
by one from alignment roller way to tube-layer forming position. The megnet lifter number can be choose per pipe length which supports the steel tube row stacking system in "hexagonal,square, rectangular shape"

The bundle stacking process is similar as mechanical type stacker. After the layer is put into the forming-bed, firstly, the bed declines for a certain Technical Annex Object: Tubes Automatic Forming Equipment.





The pipe tube packing line is bundling&strapping packing system composed of pipe hexagon forming machine, Feeding device, automatic wrapping machine, strapping machine,conveyor etc. It is a set of efficient, convenient and safe wrapping machinery for pipe, pipe bundle packaging.

Pipe tube bundling&strapping machine for steel industry. This automatic pipe tube packing line has been successfully applied in different enterprises and different production lines. Continuous improvement and development make it reach a high technical level. On the foundation of professional Fhope engineers and in close co-operation with leading enterprises in the industry, pipe tube bundling and strapping solutions. In the field of pipe bundling technology have been created for ensuring the efficiency packing for transportation of pipes with bundle. In its work, Fhope engineering evaluates all the possible pipe tube bundle wrap and strapping solutions in the specific customer requirements.
Tags:
Pipe bundling machine Pipe bagging machine Pipe bundle packing machine.


How to choose the packing line?

1. Considering the packing line working range in pipe length , pipe OD and pipe bundle OD
2. Checking the space avaible in factory and how to connect the packing line into production line or cutting line.
3. Considering the way and direction of the pipe bundle out-feeding.
4. Arrange the bundle handling way and storage area.
5. Considering the automation level required, normally, the high level automation the best in the furture production. Because of the heavy wegiht steel pipe and bundle is not possible to handling by man power.
6. Checking the packing goal required: for storage, for domenstc or oversea market...may asks the different packign way for the steel pipe bundle.some of the package may need strapping, some of the packaging may need wrapping...
7. Consulting with professional team for the packing line function and spefication to best understanding in the possibility.
8. Asking the detaill about the installation, commissioning and after service, it is better add a romote control moudle in the control system for easy trouble shooting.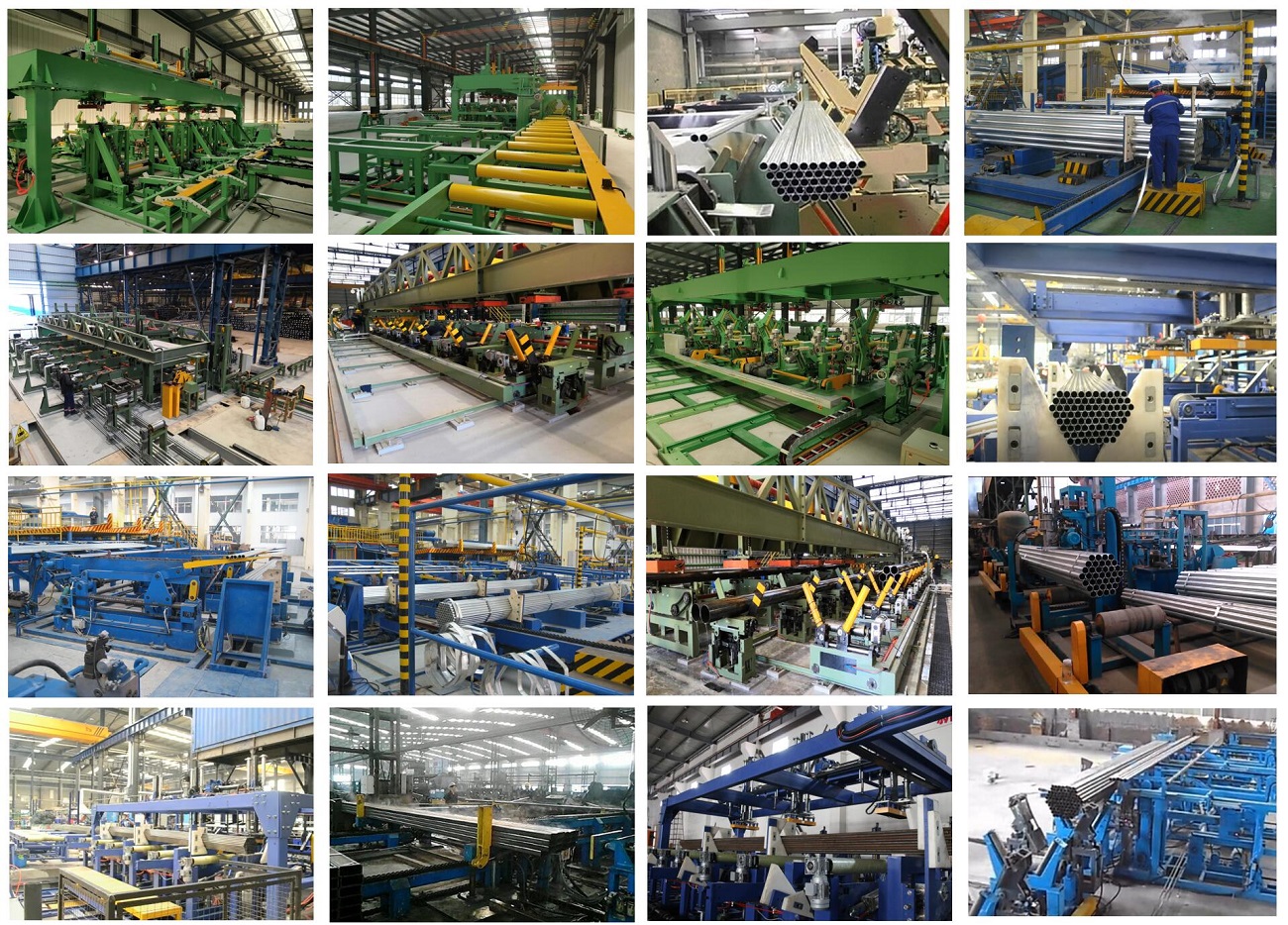 For detail information about the Features of the machine you can click here
Tube & Pipe packing line
Automatic steel pipe bundle strapping packing lineA.Auto Steel Pipe Bundle Strapping Packing Line Product Shape : Round, Square amp; Rectangular Size : Round Min Ø 114.3 mm ~ max Ø323.9 mm : Square Min 90 x 90 mm ~ Max 250 x 250 mm : Rectangular 80 x 100 mm ~ max 200 x 300 mm Thickness : 3.0 mm ~12.7 mm Bundle Size : Hexagon Width Min 450 mm ~Max 1100 mm : Hexagon Height Min 3...

automatic pipe cape insert machineDesign Drawing: Originality: Current industry status:The capping machine has high requirements on the geometric shape of the pipe cap, the cap can not have flash, and the failure rate of the cap is generally 1-5%. After many research and development tests, the industry's first opening and closing cap tooling was developed, ...

Automatic steel pipe stacking line for round & rectangular piAutomatic steel pipe packing line for round & rectangular pipe includes the automatic steel pipe stacking machine for bundle making, automatic bundle out feeding and steel pipe strapping machine with storage system....
Fhope Businesses is actually a major manufacturer and supplier of pipe tub packaging bundling machine, pipe tbue bundling, tube strapping machine, along with other packaging devices. It reduce pipe products incorporate a full collection of strapping machine, film wrappers, and bundling devices. Fhope also products an entire type of pipe bagging line, from basic PE film bag and woven bagging, to fully automatic and randomly dimension pipe bundle packaging.
Steel pipes&tube packaging line
Plastic pipe&tube packaging solution
Fhope pipe bundling methods are used for sectors which includes plastic and steel pipe tube as well as other tube made items. Fhope has been doing pipe tube bundling and strapping for over five years and has an installed foundation for steel company of over 50 packaging systems, all of which are produced completely in the China.