Automatic steel tube strapping machine
Description:
It is a automatic strapping machine connect with steel tube bundling machine for automatic strap the steel tube bundling with online operation.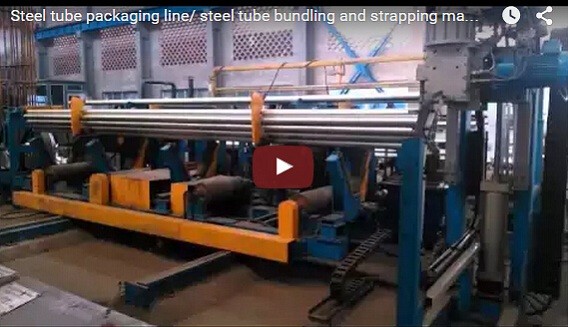 The strapping material is steel belt.
The process of the strapping by automatic strapping machine with manual operation also. The strapping machine performs all the straps in different strapping position depending on the length of the bundles. The automatic strapping machine is situated at a fixed point and the bundle moves to perform each strapping.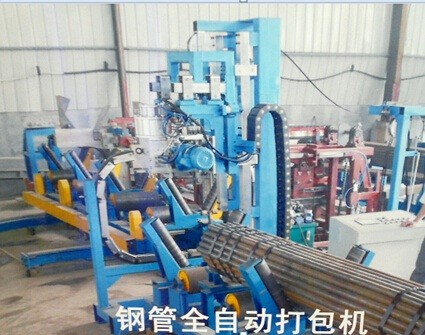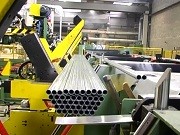 High reliability
Item
Auto Strapping machine
Strap tension
7000-18000N
Strap material
Steel strap
Strap thickness
0.8/1.0mm
Strap feed and take-up speed
2-3m/second
Hydraulic pressure
100 bar
Type of oil
Hydraulic oil
l Computer interface monitoring function contains: the quantity of each tube bundle, the dimension of hexagonal crib, and the times and gap of the strapping places.
l Complete management of database function can manage the productivity in details including: to track counting, querying and stacking timely, and reflect the related model, specification and data of each tube bundle.
l The PLC and HMI system can self-diagnose and alert the fault of the stacking system, especially for the key parts.
The other machinery: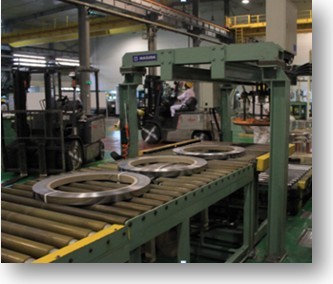 Automatic pipe packing line
Automatic pipe wrapping machine
Aluminum profile bundle wrapping machine
Automatic packing line
Steel pipe tube bundle machineAutomatic steel tube bundling lines for reducing the labor cost. It is to bundle making shape of Hexagon, square, triangle, trapezoid. We produce different models of lines based on the length
Steel tube strapping machineThe automatic steel strapping machine Tension Force 15,572 – 19,576 N Control Mode from automatic, semi-automatic to manual. Strapping process for bundle Shape Hexagon, square, triangle, trapezoid...
Coil strapping machineAutomatic steel tube packing machine for putting the tube into bag with high speed handling and bagging.It can be connected with tube feeding system for online tube bag packing.