Door packing solution: Door wrapping machine and door shrinking machin

e
Fhope door packing machine is a series which has been designed by Fhope's best engineers and designers. This series is for modern door industry and it utilizes in achieving special packaging goals for manufacturers in door industry. The machine makes perfect package to prevent the products from abrasion, friction, scratch,dust and water during storage and transportation. Easy operation and high efficiency are the main factors to the machine's popularity. Our reasonable price also made the machine become an accessable solution for the customers.
Our rich experience helps us to have the opportunity of covering many scales of industrial products companies. We will try our best efforts to assist with your projects.
■ Flooring industries (parquet, laminate, cork, and solid wood).
■ Moulding industries (panels, strips, and solid wood).
■ Kitchen and bathroom industries.
■ Furniture (knockdown).
■ Board industries (bench, ceiling, wall boards).
■ Door and window industries.
How to packing machine door by machine and what is the possible solution to reduce the door packing procession, following is the main ways
A. Door Shrinking Solutions
Door shrinking machine is consisted of conveyors, panel bagging machine and shrink tunnel. Easy to accomdate different products, providing a better protection and having a better appearance. After passing through the film covering machine, the door will be covered with film and moving into the shrinking tunnel. By heating, the film will be shrink wrap on the surface of the door which is smooth and nice for the door package
1. Modle A: One sealer with two press device
The door panel first will be covered with plastic film and after that the heat blade will cut and seal the edges of the package. The bagged panel then will be sent into the hot tunnel for shrinking. The package will be very tight and neat after shrinking process.

After feeding the door into infeeding conveyor, the door will be covered by film applicator, And than the door passing throught the shriking tunnel for shrink heating. After door come out the shrinking tunnel, the door both sides will be pressed by two vertical press rolls. That is used to press the two sides of the panel after shrinking and make a tidy edge..
This tight and neat package can be a selling point for the manufacturers.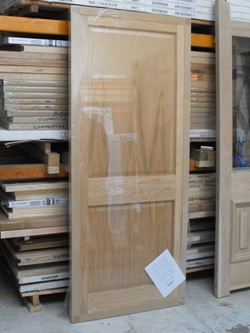 One sealer door shrinking machine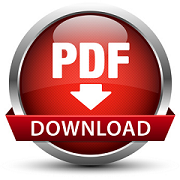 2. Three sealers solution:
Three sealers fixed on the machine, instantly cut and seal three sides of the package before going into the shrinking tunnel, greatly shortened the time. The wholly sealed package does a better performance in protecting your products.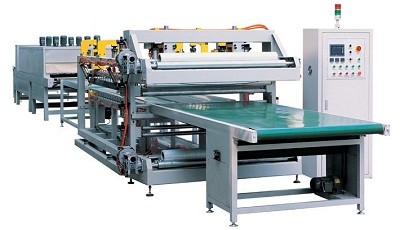 Three sealer door shrinking machine
Parameters:
1.Sealing machine
Control: PLC
Structure material: Carbon steel
Packing Objects:
Length: 1000-4000mm
Width: 600-1200mm (custiziedable)
Height: 80-210mm
Height of working table: app. 800mm
Conveyor speed: app. 4-9m/min
Packaging type: Full packaging
Packing material: PE/POF/PVC film with reserve pore.
Sealing part power consumption: app.4KW
Power supply: per requirement
Air Supply: 6~8kgf/cm2
2.Shrinking machine
Structure material: Carbon Steel
Length:5000mm
Shrinking tunnel: 4000mm
Shrinking side: W 1400mm x H300mm
Heating power consumption: App.20Kw
Calorific: 4PCS
Cooling fans: 1 Group
Drive part: Frequency control motor
Conveyor speed: app. 6m/min
Temperature: 100℃-220℃
Packing material: PE/POF film with reserve pore.
Power supply: 380V
3. Motion sealer door shrink packing machine
The motion sealer door shrink packing macine includes one cross sealer with two motion sealers for sealed door bag packing which adds the shrinking tunnel and horizontal conveyor for efficiency door packing.Our tean offer the equipments with international advanced and reliable high-speed edge sealing technology.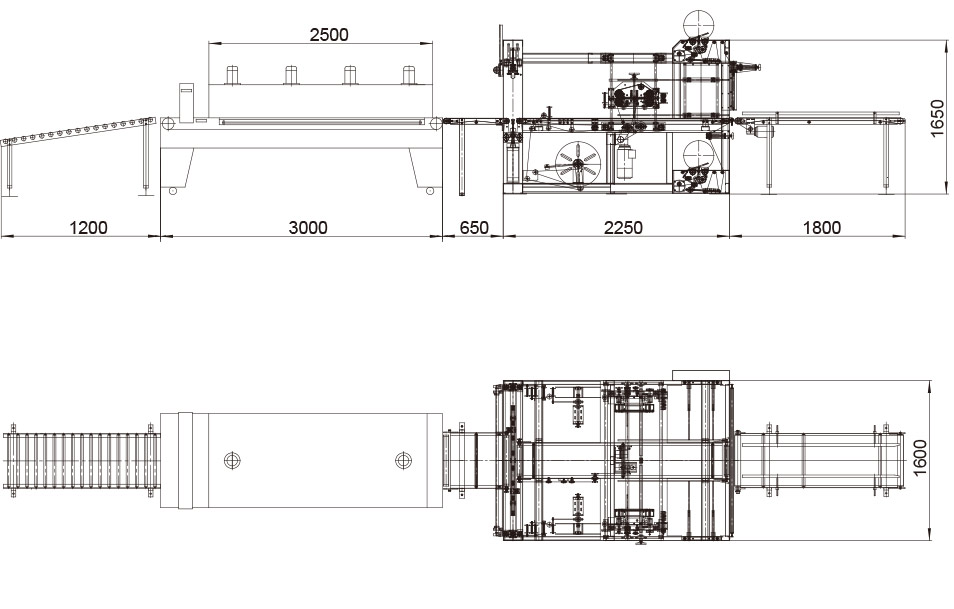 How to get a perfect door packaging withoug wrinkle all sides? The three sealers door shrinking solution is a good choice. The door will be infeeing into the film sealing station so that all side of the film will be cutt and sealed nicely by three sealers with proper size bag. And after shrinking procession, the door will be nice packing by regular, smooth shink at the surface.


B. Door Wrapping Solutions
Door horizontal wrapping machine is d
esigned for packaging the product through stretch wrapping. Stretch film will be used as the packaging material to wrap the door panel and the machine is controlled by the control system. The setting is changeable and can be operated by users themselves. Different packaging methods such as overlap rate control, over wrapping on front and rare parts, bubble film covering are achivevable as well. Below are specification of the different machines.
1. Horizontal orbital wrapper for door

The solution= in-feeding conveyor + wrapping machine+ out feed conveyor
It is able to work for different door packaging. No matter what length, weight and size problem, Fhope Pack makes solutions as your need.
2. Bubble film orbital stretch wrapper for door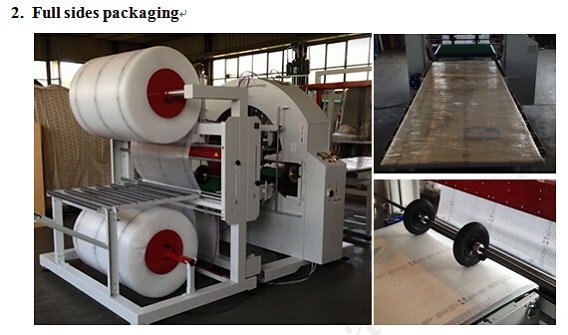 The packaging solution= film covering machine + wrapping machine + out feeding conveyor.
It's a stretch wrapping solution providing better protection for your door with full size packaging.
The film covering device adopts PE film, bubble film. And, cut film by sealer.
3. Door Wrapping in

Vertical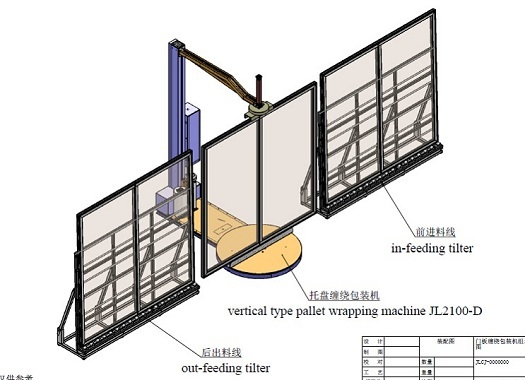 This is an ecomomic door packaging solution= Film covering machine + top pressing down device.
It a film stretch wrapping solution by turntable with film applicator that providing a better protection for your door with full size packaging.
The film covering device adopt stretch film
WELCOME TO CONTACT WITH US FOR FREE CONSULATION: INFO@FHOPEPACK.COM