Home
>
Products
>
Pallet Inverter
>
Mobile Pallet Changer
>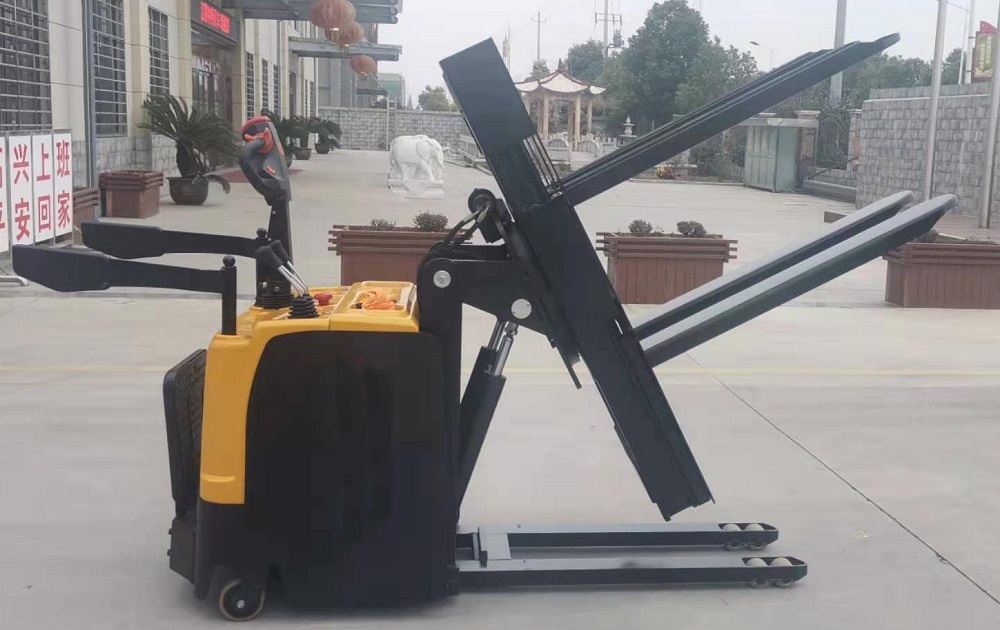 MOBILE PALLET CHAGNER is an battery drived electrical pallet truck used to change the pallets for various applications. It is easily exchanges the various pallets, also separating the stacks and distributing them over several pallet. The machine drive by battery
Features:
1. Excellent collections. Well-known brands are adopted for main components.
2. Prevent from manual stacking of goods effectively.
3. Strong structure and durable designing.
4. Battery driving with long life and high performance
5. Lifting and upending capacity 1000Kg
6. Clamper speed up the time for clamping, speed of turning is adjustable.
7. Automatic rotation the pallet with 180 degree that is easy for changing the pallet.
8. Easy handling and maintainment.
Technical parameter FPFZ-M01:
Name
Unit
Lifting height 1.6m
Max. Loading
kg
1500
Length
Fork arm size
mm
1100*165*50
Machine size
mm
2250
Width
Wheels distance width
mm
520
Machine width
mm
850
Height
Fork arm Height
mm
1600
Handle height
mm
1490
Fork arm opening range
mm
1400
Machine weight
kg
1200
Turning direction
mm
1250
Unloading moving speed
km/h
5
Loading moving speed
km/h
4
Loading gradient
%
10
Lifting motor
kw
2.2
Driving motor
kw
1.2
Bettary working hour
hour
App. 6 hour per time