Home
>
Products
>
Coil Packing Machine
>
Wire coil wrapping machine
>
AUTOMATIC STEEL WIRE PACKING MACHINE
The Fhope provides automatic steel wire coil packaging solutions for the wire drawing industry. Our commitment to the industry has resulted in the development of innovative, cost efficient products that resolves the problems like man power, packaging, safety...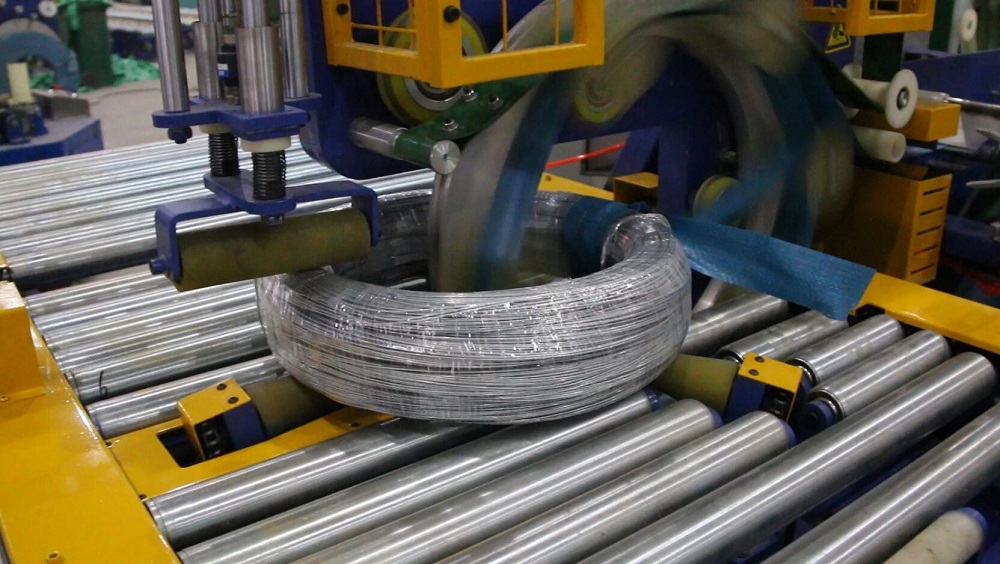 1)Benefits:
Modular construct easy for operation
Mechanization wrapping is higher efficiency than manual package
Wide range of applicability, special size product will make a special design
No risk of product damage with humanized design and manufacture
Extremely low cost of consumable and energy
Machine operation at low noise level
Short set-up times required
Adjustable product advancement speed using inverter
Machine is occupied with a quick change dispenser for the wrapping material
Tension of stretch film is variable,it is important in order not to damage the products
2) Basic characteristics:
Wire wrapping machine for PC wire, GI wire, spring wire... that was designed mainly for metallurgical industries. The machine could be widely used in the exterior wrapping of circular articles with automatic in-feeding, packing material calculation, cutting...

3) Features:
1. Equipment with PLC & HMI program system for automatic wrapping.
2. Excellent collections. Well-known brands are adopted for main components.
3. The overlap of packing tape can be adjusted by inverter.
4. Turing ring on the bottom can make the operation easier and safer.
5. Difference packing material can be choosing.
6. Automatic position per different wire coil size OD
7. Packing tape tension can be adjusted by special brake device.
8. Supporting rollers are covered by polyurethane.
9. Special side protective rollers used to make big size of coils stable and safe.
10. 4 sides protective rollers are used making coils fixed & stable.
11. Distance between protective rollers can be adjusted for different size of coils.
12. Separate electrical box for safe operation and technical testing and trouble-shooting.control panel
13. Guardrail is used for safety operation.
14. Soft stop and start
15. Packing position reset.
16. Ring speed is adjustable by inverter.
17. Rolls speed is adjustable by inverter.
18. Friction between wheel and ring is adjustable.
19. PU wheel which long life using.
20. Roller conveyor for in-feeding and out-feeding.

Technical parameter FPW-AU300:
Object weight: 300-1500kg
Package width: 100-300mm
Package OD: 500-1200mm
Package ID: 300-900mm
OD-ID:<500mm
Roller Speed:2-4m/min
Rotating speed: 0-90r/min
Overlap scope:10%-90%
Power output: app. 3.8kw
Power voltage:380v/50Hz 3phase
Packing material: Stretch film/Paper
ID:50mm OD:150-250mm Width:120mm

Our sales, equipment service, customer service and engineering departments can help you design the optimum protective automatic wire packaging solutions for your application.
Vedio 1:
Vedio 2:
CONTACT US