Home
>
Products
>
Coil Packing Machine
>
Wire coil wrapping machine
>
Wire coil wrapping machine with good price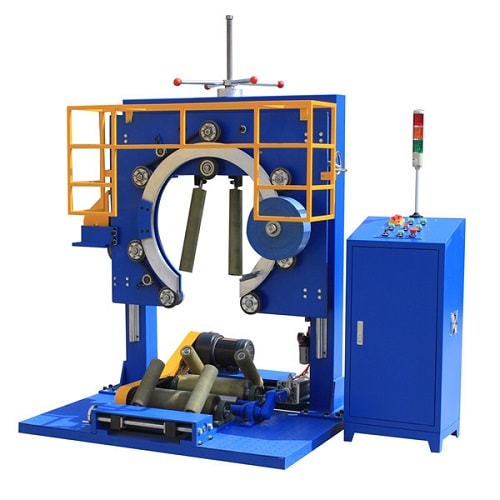 This wire coil wrapping machine is designed for wrapping medium coil, the package will prevent dust, air and water..so on. The machine, which wraps coils through eye core, is flexible and can be tailored to meet the specification of each customer and packaging line configuration.
Following information of the package and packing requirement will be filling into the control system. The data are such as:
• Coil OD
• Coil ID
• Coil Width
• Min.& Max.Weight
• Ring rotating speed
• Packaging material layer
• Customer identification number
Packing steps:
Loading the wire coil to the wrapping station by rolling in>>>Tie the packing material on the coil>>>>>Push the start bottom for wrapping>>>>>>>Wrapping done>>>>Manually cuts the packing material>>>>Roll out the wrapped coil
The operation panel with push bottom for machine control.
Wire coil wrapping machine offer easy adjustment. In complicated packaging procedure, error occasionally appear. Highly intelligent control system with excellent sensors allow the operator alter all the information just on the interface. We also provide extra options to offer our customers the best machine they have ever imagined.
Description:
FPW-300 wire coil wrapping machine is the N type version wrapper that fixed packing material on the ring. It mainly used to wrap the light steel wire coil, razor wire, GI wire... It is an highly efficiency equipment for coil shape package and is a nice packaging solution for saving labor, product protect and material cost.

Features:
1. PLC with time relay for machine control
2. Manually infeeding and out feeding the wire coil
3. Manual and automatic working mode for easy operation.

4. Packing material tie at the wire coil for starting the wrapping
5. Overlap of the packing tape according to requirement.
6. Manually packing material cutting.
7. Guardrails, soft starts and stop for safety operation.
8. Height of the ring could be adjusted for different OD of the coil
9. Packaging tension is adjustable by special breaker.
10. Not installation required after receiving the machine. Only power supply required for start working.
11.Indicator alarms automatically when trouble occurs. Trouble can be shown automatically.
12. Special brake for the tape release device to avoid material folding.
13. Sea worth packing
Note: Can be designed according your specification.


Parameters:
FPW-300
Voltage (V/Hz)
380v 50Hz 3Phase
Power (KW)
1.5kw
Steel wire coil ID(mm)
300-700
Steel wire coil OD(mm)
450-850
Steel wire coil width(mm)
100-300mm
Steel wire coil Weight(Kg)
10-250kg
Packing material
PVC/LLDPE/PE/PAPER/HDPE
ID:50mm OD:100-250mm Width:100-120mm
Overlapping rate
10%-90%
Air supply.
No
CONTACT US